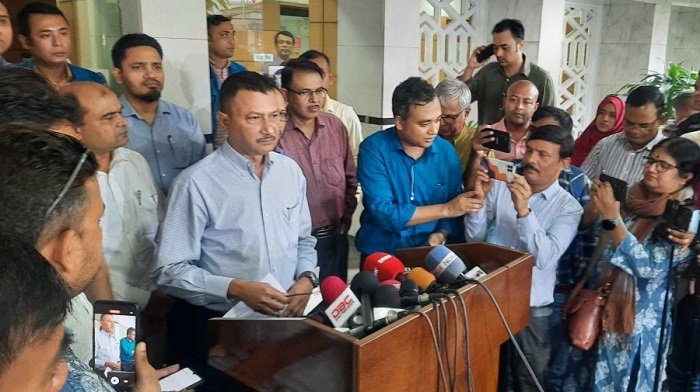 The Anti-Corruption Commission (ACC) on Thursday questioned seven people, including Grameen Telecom Chairman and Nobel laureate Dr Muhammad Yunus, in a case filed over alleged misappropriation of Tk 25.22 crore from the company's Workers Profit Participation Fund (WPPF).
"Grameen Telecom employees filed a complaint with the Department of Inspection for Factories and Establishments," said Mahbub Hossain, secretary of the Anti-Corruption Commission. "They looked into the allegations and forwarded some of them to the ACC for further investigation. The ACC has opened a case and is conducting an investigation in this regard. They were questioned by the Commission as a component of the inquiry."
The ACC Secretary made the remarks when asked about summoning and questioning Dr Yunus in a money laundering and embezzlement case, reports UNB.
In response to a question regarding the impact of Dr Yunus' international profile on ACC's investigation, Secretary Mahbub Hossain said, "ACC does not consider an individual's personal reputation in its investigations. There is no possibility of influence."
Responding to another question on whether Dr Yunus will be barred from traveling overseas, the ACC secretary said: "If the investigating officer feels that the person may conceal the allegations against him/her or destroy evidence or influence witnesses, the investigating officer may arrest him/her for the purpose of investigation or take any kind of prohibiting action as directed by the court."
Earlier today, Dr Muhammad Yunus appeared before the Anti-Corruption Commission (ACC) in response to summons for questioning in a case filed over money laundering and embezzlement.
After coming out of the ACC office, Dr Yunus defended himself, saying, "I have committed no crime, and I'm not afraid."
Dr Yunus' lawyer Abdullah Al Mamun said that his client was not involved in any irregularities involving Grameen Telecom's Workers' Profit Participation Fund.
He said the former employees and workers of Grameen Telecom were paid the dividends in line with the rule.
The lawyer said that Dr Yunus went to ACC to help them in the investigation despite him having a meeting at the United Nations as he "respects the law."