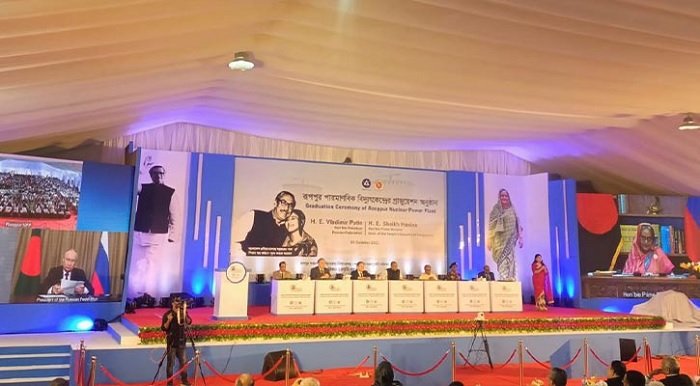 Bangladesh on Thursday officially received the first batch of uranium for its Rooppur Nuclear Power Plant (RNPP) to become the 33rd nuclear power-producing country of the world.
The dream project's Russian contractor, Rosatom, handed over the radioactive fuel to the RNPP authority at a formal "Graduation Ceremony," a milestone event joined virtually by Bangladesh Prime Minister Sheikh Hasina and Russian President Vladimir Putin from Ganabhaban and Kremlin respectively.
Director General of the Russian State Atomic Energy Corporation Rosatom, Aleksey Likhachev, handed over the fuel at the function presided over by Science and Technology Minister Architect Yeafesh Osman.
Rafael Mariano Grossi, director general of International Atomic Energy Agency (IAEA) also joined the ceremony through video conference.
The first batch of uranium, the nuclear fuel of the first unit of Rooppur Nuclear Power Plant, arrived in Bangladesh on September 28.
The consignment of uranium arrived in Dhaka from Russia through a special air cargo and it was transported to the nuclear power plant site by road under heavy security the next day.
The nuclear fuel was flown to Hazrat Shahjalal International Airport in Dhaka by a special plane direct from a factory in Russia.
The fuel was produced at the Novosibirsk Chemical Concentrates Plant (NCCP) in Russia, a subsidiary of Rosatom's fuel manufacturing company Tevel.
Rosatom, as a Russian contractor, has been engaged in building the 2400 MW Rooppur Nuclear Power Plant with two units, each having the capacity of producing 1200 MW electricity.
The nuclear reactor of the first unit of the power plant was loaded in October 2021 while reactor for second unit was installed in October 2022.
Once the nuclear fuel is loaded into the power plant's reactors, power can be produced for one year. After that, the fuel will have to be reloaded into the reactor.
The government conceived the idea of setting up the RNPP project in 2009 and signed a memorandum of understanding with Russia on May 13 in 2009 on the "Peaceful Uses of Nuclear Energy."
On January 15, 2013, an agreement regarding State Export Credit of US$ 500 million was signed for carrying out preparatory phase construction works of Rooppur Nuclear Power Plant.
The government signed a US$12.65 billion general contract (GC) in 2015 with Moscow for building the nuclear power plant.
Bangladesh signed a credit agreement with Russia to obtain $11.385 billion credit for RNPP in July 2016. The credit covers 90 percent of the project cost.
The Ministry of Science and Technology recently said that the first unit of the plant may come into operation in July 2024 and the second unit in July 2025.
According to the World Nuclear Association website, the countries using nuclear energy include the US, China, France, Russia, South Korea, Canada, Ukraine, Germany, Japan, Spain Sweden, Belgium, UK, India, Czech Republic, Finland, Switzerland, Bulgaria, Pakistan, Hungary, Slovakia, Brazil, South Africa, Mexico, Romania, Argentina, United Arab Emirates, Belarus, Slovenia, the Netherlands, Iran and Armenia.