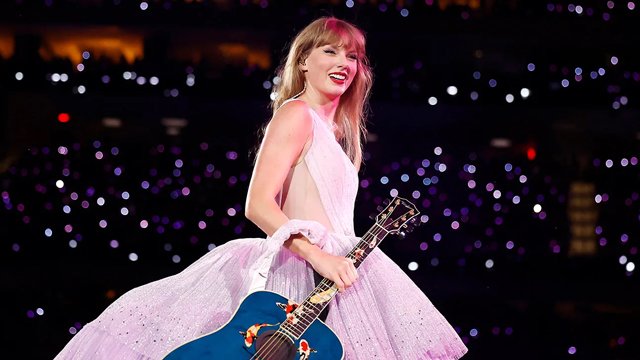 Advance ticket sales for the movie of Taylor Swift's "Eras" tour have topped $100 million worldwide, theater operator AMC said Thursday, making it the best-selling feature-length concert film in history.
"Taylor Swift – The Eras Tour" is due out on October 13 in 8,500 cinemas in 100 countries.
The film is already set to become the highest-grossing concert film ever, dethroning "Justin Bieber: Never Say Never" which made $99 million and was released in 2011, AFP reports.
"This Is It," which grossed $261 million worldwide, is not considered a concert film because it only documents the performance preparations of Michael Jackson, who died before performing on stage.
"Eras" was initially only to be released in the United States, but the singer ultimately chose to make it a global event, even though her tour will include a second leg next year, with dozens of dates in South America, Australia, Asia, Europe, as well as the United States and Canada.
An AMC spokesperson told AFP the $100 million in revenue came from all the cinemas which will screen the movie, including the Cineplex networks in Canada and Cinepolis in Mexico.
Of the 8,500 cinemas, 4,000 are in North America.
The all-time gross record for an October opening weekend in North America is $96 million, set by "Joker" in 2019.
"Taylor Swift – The Eras Tour" could exceed 100 million during three days, from October 13 to 15, in North America, according to Jeff Bock, of the specialist firm Exhibitor Relations.
The 2H48 film contains images shot during three of the mega-star's concerts at the SoFi Stadium in Inglewood, a suburb of Los Angeles, in early August.
The "Eras" tour currently has 146 dates.
According to Pollstar, the industry magazine covering the performing arts, each concert generates $13 million in revenue, which would bring the tour total to around $1.9 billion.
Never before has an artist or group crossed the symbolic billion-dollar threshold.
AMC said on Monday that singer Beyonce would follow Swift's example and have a theater release on December 1 of a documentary inspired by her "Renaissance" tour, which she has just finished in the United States.
In electronic trading after the close on Wall Street, AMC shares rose nearly two percent.