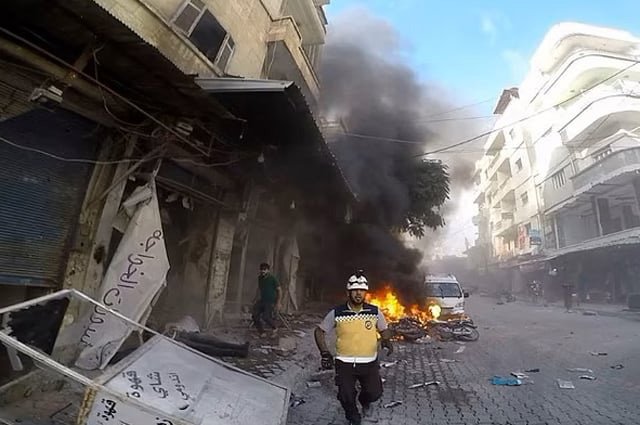 An attack Thursday on a Syrian military academy killed 112 people, a war monitor said, with state media blaming "terrorist organisations" for the drone strike in government-held Homs.
Separately, Turkish air raids in the country's Kurdish-held northeast killed at least 11 people, according to Kurdish forces, after Ankara had threatened retaliation for a bomb attack.
In the central city of Homs, "armed terrorist organisations" targeted "the graduation ceremony for officers of the military academy", an army statement carried by official news agency SANA said.
The Syrian Observatory for Human Rights, a Britain-based monitor, reported "112 dead including 21 civilians, 11 of them women and girls". It said at least 120 people were wounded.
Health Minister Hassan al-Ghobash told state television the "preliminary" toll was 80 dead "including six women and six children" and around 240 wounded.
There was no immediate claim of responsibility, AFP reports.
The attack was carried out with "explosive-laden drones", according to the military statement, vowing to "respond with full force". The government declared three days of mourning starting Friday.
In the rebel-held Idlib region, residents reported heavy bombardment by government forces in apparent retaliation. The Observatory said eight people had been killed and some 30 wounded.
Swathes of Idlib province are controlled by Hayat Tahrir al-Sham, led by Al-Qaeda's former Syria branch. The jihadist group has used drones to attack government-held areas in the past.
United Nations chief Antonio Guterres was "deeply concerned" over the drone attack and the retaliatory shelling, his spokesman Stephane Dujarric said.
Geir Pedersen, the UN special envoy for Syria, said in a statement: "Today's horrific scenes are a reminder of the need to immediately de-escalate violence, towards a nationwide ceasefire and a cooperative approach to countering Security Council-listed terrorist groups."
Overnight, Syrian shelling killed an elderly woman and four of her children in a rebel-held area of Aleppo province, rescue workers and the Observatory said.
– Turkish drone shot down –
Turkey's defence ministry said in a statement Thursday evening that Ankara forces had carried out air strikes in northern Syria, destroying 30 targets, including "shelters, depots and storage sites".
The Kurds' internal security forces said Turkey had carried out 21 strikes in the area, killing "11 people, including five civilians and six" security personnel.
Pentagon spokesman Pat Ryder told reporters that US F-16 warplanes over Syria had shot down a Turkish drone on Thursday, deeming it "a potential threat" after it approached "less than a half kilometre from US forces" near Hasakeh.
Turkey has carried out repeated strikes on targets in Syria's Kurdish-held northeast.
On Wednesday, Ankara warned it would step up its cross-border air raids, after concluding that militants who staged a weekend attack in the Turkish capital had come from Syria.
The US-backed Syrian Democratic Forces led the battle that dislodged Islamic State group fighters from their last scraps of territory in Syria in 2019.
Turkey views the Kurdish People's Protection Units (YPG) that dominate the SDF as an offshoot of the Kurdistan Workers' Party (PKK), listed as a terror group by Ankara and its Western allies.
Turkey has launched strikes on PKK positions in northern Iraq since Sunday's attack in Ankara, which wounded two Turkish security officers and was claimed by the Kurdish group.
AFP correspondents in northeastern Syria saw smoke rising from oil sites near Qahtaniyeh, close to the Turkish border.
Two power stations in the area were also hit, as well as the vicinity of a dam.
– 'Worsening' –
Farhad Shami, spokesman for the SDF, the Kurds' de facto army, said the strikes had targeted military and civilian sites.
"There has been a clear escalation since the Turkish threats," he said.
In the market of the city of Qamishli in Hasakeh province, vendors voiced concern.
"The situation is worsening every day. Turkey doesn't let us breathe," said Hassan al-Ahmad, a 35-year-old fabric merchant.
SDF commander Mazloum Abdi denied Wednesday that the Ankara assailants had "passed through our region".
"Turkey is looking for pretexts to legitimise its ongoing attacks on our region," he said.
The Kurdish administration urged "the international community" to "take a stand capable of dissuading" Turkey from its attacks.
The United States, Russia and Turkey all have troops in the country.
Between 2016 and 2019, Turkey carried out three major operations in northern Syria against Kurdish forces.
The conflict in Syria has killed more than half a million people since it began in 2011 with a brutal crackdown on anti-government protests, spiralling into a devastating war involving foreign armies, militias and jihadists.