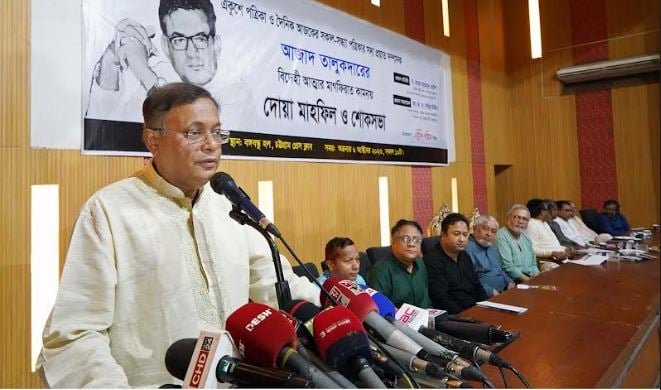 Information and Broadcasting Minister Dr Hasan Mahmud today said the foreigners do not support the ill-effort to resist election.
"Elections will be held on time and if anyone tries to disrupt the elections, the people of the country will resist it. Similarly, the foreigners never support the process of disrupting the elections," he said.
Dr Hasan, also Joint General Secretary of Bangladesh Awami League (AL), was replying to queries from of the journalists after participating in a memorial meeting for the late editor of Ekushey Patrika, Azad Talukder, at Bangabandhu Hall of Chattogram Press Club.
"The BNP Secretary General said that they will not participate in any election under Prime Minister Sheikh Hasina which proves they are afraid of election," he said.
He added that BNP men became afraid as people are not attending their programmes and gatherings as per BNP's expectation.
As a result, BNP has realized that there is no possibility of being victorious in the election, he said.
Replying to the journalists, Dr Hasan said BNP is walking on the path of obstructing the democracy of the country by resisting the election and it will not be allowed by the people of the country.
Mentioning BNP's ultimatum to topple the government by the 18th October after end of the road march in Chattogram, Dr Hasan Mahmud said that BNP has given such ultimatums many times in last 13-14 years.
They had an ultimatum last December too, he said, adding that then there was an ultimatum to send Khaleda Zia abroad within 48 hours.
Now by 18th October, they have given an ultimatum again, he continued.
He further said that BNP's ultimatum is nothing but blank-speech.
He said that BNP Secretary General Mirza Fakhrul Islam Alamgir gave the speech at the end of the road march in front of the party office in Chattogram.
People, who attended it, were disappointed as they saw only a few people gathered there, he said.
Even, when the crazy dance takes place on the bank of Laldighi in the city, around same or less number of people compared to the people's attendance in BNP's road march participate, he added.
BNP became frustrated seeing this (attendance), he continued.
The minister said BNP hoped that the foreigners would put them in power, but that hope has also vanished.
Earlier, Dr Hasan offered special prayers seeking eternal peace for the departed soul of Azad Talukdar, the late Ekushey newspaper editor.
Terming Azad was a fearless journalist, the information minister said he had a fighter's mind-set.
"A few days before his death, he told me a few things about how he was preparing for death. A man who knows he is on the verge of death, has no frustration at that time. I saw that characteristics inside him," he added.
Acting editor of Ekushe Patrika Nazrul Kabir Dipu presided over the meeting while Vice Chancellor of Chattogram BGMEA University of Fashion and Technology Dr. Obaidul Karim, former dean of the Faculty of Arts and Humanities of Chattogran University Md. Sekander Chowdhury, Rangunia Municipality Mayor Shahjahan Sikdar, Bangladesh Journalist Welfare Trust Member Kalim Sarwar, BFUJ Acting Secretary General Kazi Mohsin, CUJ Acting President Rubel Khan, its General Secretary M Shamsul Islam, Chattogran Press Club General Secretary Debdulal Bhowmik, its Former President Ali Abbas and Vice President Chowdhury Farid also spoke, among others, on the occasion.