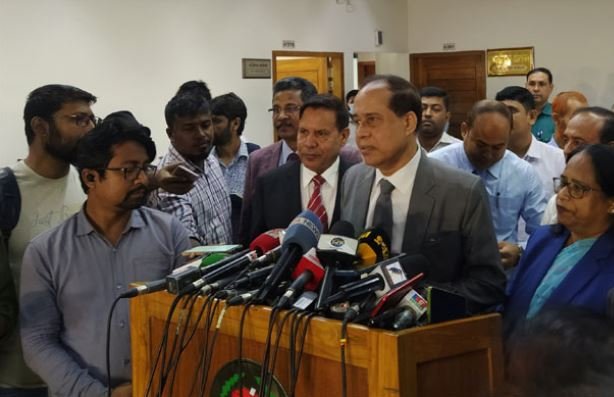 Chief Election Commissioner Kazi Habibul Awal has said that visiting joint pre-election assessment mission from the United States wanted to know about the overall election process of the upcoming national polls.
They also wanted to know how the commission will coordinate with the government during the elections.
"In the discussion, their main focus was free, fair, participatory and peaceful elections.They come to assess the pre-election situation in the country," said CEC while briefing journalists after holding meeting with the six-member delegation from the International Republican Institute (IRI) and National Democratic Institute (NDI) on Tuesday.
The meeting began at 11am in Agargaon Election Bhaban in the capital.
EC Habibul Awal said, "The US delegation wanted to know our role, way of work, responsibilities, our coordination with the government. We informed them all over these issues."
"When they will go back to their country, the US mission will take the decision whether they will send observer or not," he added.
The joint IRI and NDI pre-election assessment mission arrived in Bangladesh on Saturday (October 7) to follow electoral preparations and conduct an independent and impartial assessment. They will stay in Bangladesh till next Friday.