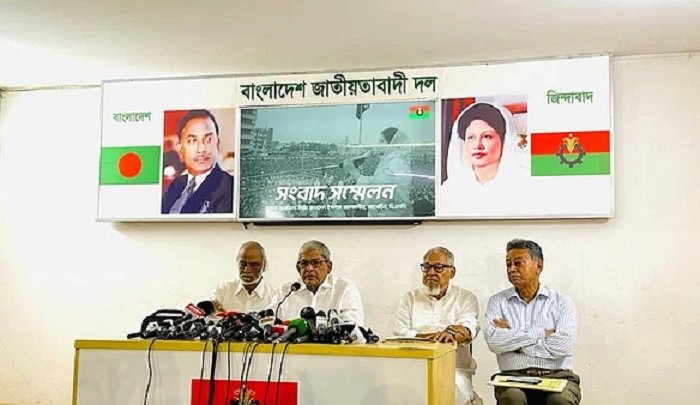 BNP Secretary General Mirza Fakhrul Islam Alamgir on Wednesday accused the government of pushing the country towards a confrontational situation to hold another lopsided election.
Speaking at a press conference at the party chairperson's Gulshan office, he also alleged that the government is moving ahead with its plan to hold the one-sided polls by arresting and jailing the active BNP leaders and implicating them in 'false' cases.
"The government is leading the country to a state of total confrontation with an aim to hold another one-sided election without voters as they did in 2014 and 2018," he said.
He warned that the people of the country will no longer let the government hold any more lopsided polls.
"We have made it very clear that there cannot be any election under Sheikh Hasina. This government must resign and this parliament must be dissolved for holding the election under a neutral administration," Fakhrul said.
The BNP leader said their party is now least bothered about the election as their main focus is on ensuring the fall of the government through a movement.
He also said almost all political parties, except a few ones subservient to the government, do not recognise elections held in 2014 and 2018.
"There is no point in holding elections in this way. The entire world is saying that your last two elections were not acceptable and credible. So, what is the use of such polls? So what will they gain by holding an unacceptable election by force?" Fakhrul observed.
He said their movement will be intensified further in the days to come to force the government to step down.
About their meeting with the visiting joint IRI and NDI pre-election assessment mission of the US, Fakhrul said the US team came to Bangladesh to assess whether there is any atmosphere to hold an acceptable election, but they did not clearly give any opinion.
He said they told the US team that no fair election could be held in Bangladesh without a non-party neutral government.
Fakhrul turned down his ruling party counterpart Obaidul Quader's remark that the BNP has blocked the path for holding political talks. "This is bullshit and a big lie."
He said their party has long been saying they can engage in talks if the government wants to discuss the issue of polls-time neutral government. "The government must first announce that they'll accept it (neutral government demand)."
The BNP leader condemned and protested the arrest of their party's publicity secretary Shahid Uddin Chowdhury Anne from his Dhanmondi residence in Dhaka early today (October 11, 2023).
He said law enforcers behaved like robbers as they arrested Anne in the dead of night by breaking the door of his house.
"The manner in which he (Anne) was arrested proves that this government is well on their way to a one-sided election by arresting the active leaders of BNP and implicating them in false cases," Fakhrul said.
He said the government arrested many BNP leaders and sent them to jail even before the announcement of the next election schedule. "Jailing and arresting the opposition leaders is an old practice of the autocratic regimes."