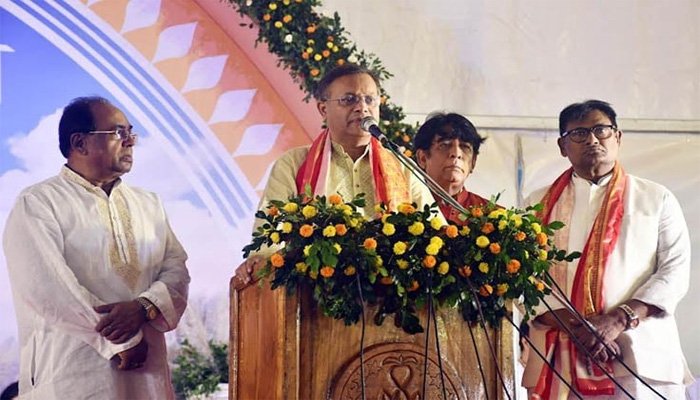 Information and Broadcasting Minister Dr Hasan Mahmud on Saturday said that everyone should stay alert as the communal evil forces always try to hatch conspiracy ahead of national election.
The minister said, "Communal forces are still active in the country. Though they were controlled with our collective efforts but they are yet to be uprooted. So we have to stay alert about them".
Dr Hasan came up with these remarks while addressing the inaugural programme of Mahalaya festival of Hindu community at Banani Puja Mandap in the capital on Saturday morning.
He said, "The evil force engage in communal provocations from time to time for their vested interests and it has been seen that they always tries to hatch conspiracies when the polls come. So, everyone should remain alert".
The information minister said, "Our first identity is that we are Bengali. After that, the identity of religion comes. The people of all faiths under the leadership of Father of the nation Bangabandhu Sheikh Mujibur Rahman sacrificed their lives for the country. We had achieved independence and the flag."
But unfortunately, the trend of communalism was brought back after 1975. The communal forces still exist in the country and they often instigate communal provocations for their interests, he said.
Hasan Mahmud said the present government, in the last 15 years, tried to bring back the original spirit of the nation which was lost after 1975. A state should never have such types of laws like the 'enemy property law'. A different law has been made to abolish it and a lot of work has been done in this way, he added.
He said Prime Minister Sheikh Hasina repeatedly said that 'religion is for individuals, festivals are for all . . . religion is for individuals, state is for all'. "And we see the reflection of it in all religious festivals including Eid, Durga Puja and Prabarana Purnima, where people of all religions join the festivities," said Dr Hasan.
Gulshan-Banani Sarbojanin Puja Foundation president Panna Lal Datta, general secretary Pran Krishna Ghosh and leader Santosh Sharma, among others, addressed the function while Manoj Sen Gupta conducted it.