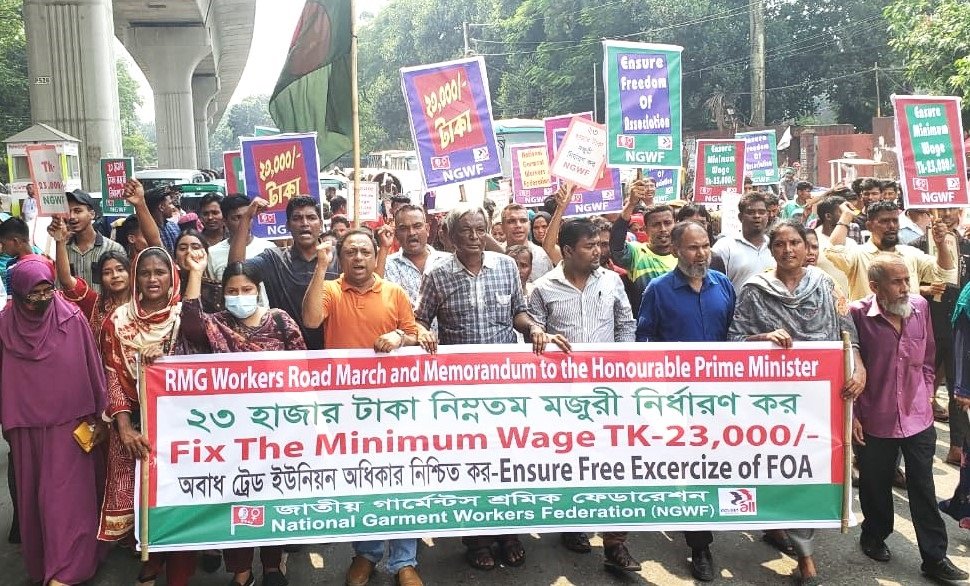 The leaders of National Garment Workers Federation (NGWF) have sought Prime Minister Sheikh Hasina's intervention to fix Tk 23,000 minimum wage for RMG workers considering high inflation in the country.
They also marched towards the PM office from Shahbagh and submitted a Memorandum at PMO in this regard on Sunday, according to a press release.
The current minimum wage is Tk8,000 under the wage board since December 1, 2018.
NGWF president Amirul Haque Amin said in the last five years, the prices of daily essentials have increased to two times, in some cases.
"Considering the market situation, the minimum wage of garment workers should be more than Tk23000 to adjust. So, we demand to fix Tk 23,000 minimum wage for RMG workers," he also said.
Amin added that the declared minimum wage was Tk8000 in 2018, which was equal to $100 dollars. Currently it stands over Tk11000 against $100.
"Bangladesh has attained middle income country's status from the least developed country. Garment workers play a pivotal role in immense export earnings. So, their minimum wage should be Tk23000," the RMG worker leader also said.
Earlier, the Centre for Policy Dialogue (CPD) proposed to set Tk17,568 as the minimum wage for readymade garment (RMG) workers as per grade 7, which is the entry-level grade in the sector. But workers' leaders opposed the proposal, and they demanded an increase of Tk23000 considering the ongoing soaring inflation.