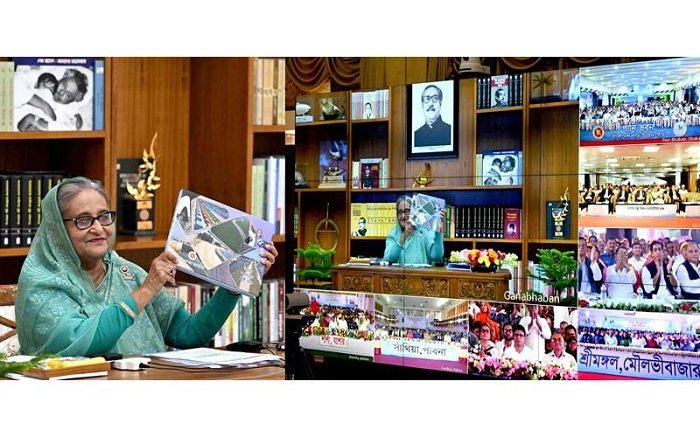 Prime Minister Sheikh Hasina on Monday asked the officials concerned to make sure that developments projects don't impede the free flow of water bodies, including rivers and canals.
"We have to ensure the uninterrupted flow of rivers. Keeping that in mind, we have to carry out our projects and development activities," she said, reports UNB.
The prime minister said this while inaugurating various projects under the ministries of water resources and health.
She joined the programme from her official residence, Ganabhaban, through video link.
She said that in the name of development it is often seen that all water bodies are filled up.
"I think that this is very fulsome. All have to take step to save the water resources whenever any project is taken up or implemented," she stressed.
Hasina also put importance on preserving water during the monsoon season.
She put emphasis on continuous capital dredging and maintenance dredging whichever is needed for the water bodies.
The PM also said that the natural flow of the rivers, canals, beels (lake-like wetland) and other water bodies must not be hindered during implementation of any development project.
She asked the relevant authorities to ensure having at least one water reservoir in every development project.
Mentioning water as the biggest resource for the country, she said that all water bodies must have to be protected.
"The nature will flow by its own course, and we have to take steps to save our resources going with that flow," she said.
Health and Family Welfare Minister Zahid Maleque and State Minister for Water Resources Ministry Zaheed Farooque also spoke at the programme.
Two separate video documentaries on the activities of the Health and Family Welfare Ministry and Water Resources Ministry were screened on the occasion.
Sheikh Hasina virtually inaugurated "65 community eye centres" at 65 Upazila Health Complexes in 28 districts, in the fourth phase, as part of the move to set up the facility at every upazila across the country under Health and Family Welfare Ministry.
From the same programme, she also opened 80 developed schemes and re-digging of 430 small rivers, canals and water bodies and laid the foundation stone of 20 new development projects under the Water Resources Ministry.
Sharsha Upazila of Jashore, Sathia Upazila of Pabna and Shreemongol Upazila of Moulovibazar district were connected virtually to the programme.
The prime minister unveiled the cover of a book titled "Joyjatra" featuring the development schemes implemented in the last 15 years.
Later, she talked to different beneficiaries through videoconferencing.