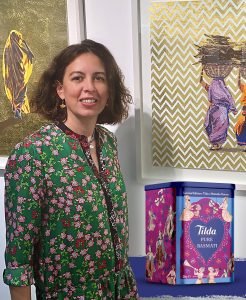 A fusion of flavour, artistry, and heritage, Tilda announces their limited-edition collaboration
with Natasha Kumar for over 50 years, Tilda has been a renowned brand synonymous with
superior quality and long-standing heritage. Tilda has mastered the delicate art of perfecting
rice elevating every dining moment into a cherished memory. It is driven by a profound
passion for cultural exploration, an integral part of Tilda's brand identity. This dedication
extends beyond the plate, as they reimagine not only the quality they offer, but also the very
essence of how these treasures is elegantly presented. This autumn, Tilda takes immense
pride in announcing the launch of their limited-edition 2kg tin in collaboration with British
Indian artist, Natasha Kumar. A celebration of food, culture and colours of the sub-continent,
Natasha's design sets twirling dancers, vibrant drummers, and a fanfare of trumpeters
against a background of deep pinks, daring blues and elegant Mughal architecture. The
drummers symbolise the pulsating heart of Tilda and the design resonates with the rhythm of
everyday. As a brand renowned for excellence, it has always strived to bring more than just
culinary delights to the table. With a rich heritage that spans generations, Tilda embodies a
commitment to quality, authenticity, and the celebration of diverse cultures. As Natasha
Kumar beautifully puts it, "This collaboration with Tilda is one of taste, a blend of flavour and
art, aimed at making every grain of rice part of a shared cultural experience.'' Natasha
Kumar's own identity traces her lineage of art and culture. She comes from a family of fine
figurative painters on her English side and draws inspiration from the rich cultural heritage of
her Indian side. Collaboration with Tilda on this exclusive tin has only broadened that
celebration of family and cultural kinship which defines her work. Scheduled to make its
debut this October, the limited-edition tin will be available through selected retail stores
across the UK. Unveil the tin to immerse yourself in this cultural experience! On the launch
of this limited-edition tin, Anna Beheshti from Tilda said, ''This collaboration with Natasha
Kumar is a perfect blend of traditions and food. Here at Tilda, we believe that art, music, and
cultures are key anchors of the diverse cultures we have been celebrating in the UK for more
than 50 years, much like how rice has been the heart of innumerable dinner tables.
Moreover, this marks the initial step in the exciting journey of crafting a fusion of flavours and
art for Tilda. Watch this space for more.''