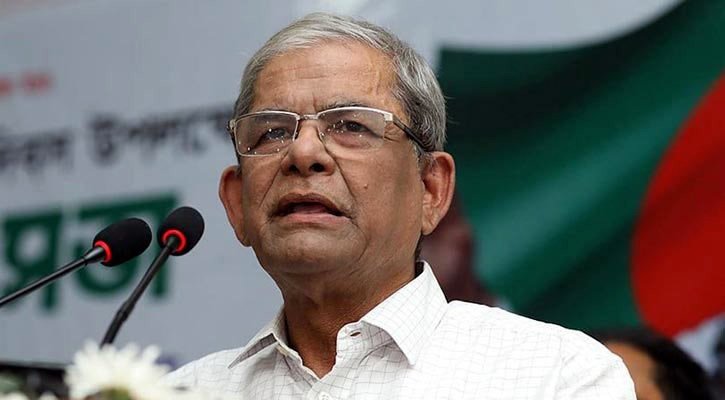 The High Court has rejected a plea of BNP Secretary General Mirza Fakhrul Islam Alamgir seeking to scrap charge framing in a vandalism case lodged in 2012.
The High Court bench of Justice Md Selim and Justice Md Riaz Uddin Khan passed the order on Tuesday (October 17).
Advocate Zainul Abedin moved on behalf of Mirza Fakhrul in the court while Deputy Attorney General Tushar Kanti Roy represented the state
According to lawyers, there is no legal bar to continue trial against Fakhrul in this case following the High Court order.
On September 3, Dhaka's additional chief metropolitan magistrate Tofazzal Hossain's court ordered trial against eight people including BNP Secretary General Mirza Fakhrul Islam Alamgir and Senior Joint Secretary General Ruhul Kabir Rizvi, in the vandalism case through charge framing charges.
Later, Mirza Fakhrul and other accused filed a petition with the High Court, requesting the scrap of charge framing.
Other accused in the case are Jamaat-e Islami leader Dr Muhammad Shafiqul Islam Masud, Saiful Alam Nirab, Moazzem Hossain Babu, Azizul Bari Helal, Kazi Rezaul Huque Babu and Khandaker Enamul Haque Enam.
According to the case statement, around 200-250 BNP, Jamaat activists led by Fakhrul and Rizvi blocked a part of the city's Minto Road under Paltan Model Police Station on December 9, 2012. They vandalised a garbage truck of Dhaka South City Corporation (DSCC) and hurled crude bombs targeting it at about 7:00pm at Minto Road in Eskaton.
Md Aynal, driver of the garbage truck, filed a case in this connection on the same day.
On October 23, 2017, the investigating officer of the case, DB sub-inspector Anwar Hossain submitted charge sheet against the accused. Accused Shafiul Bari Babu was exempted from the case as he died following submission of the chargesheet.