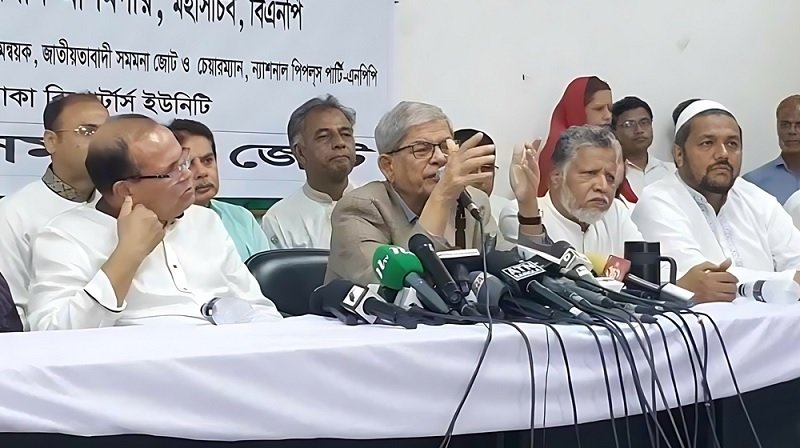 Awami League is such a political party which has been cheating people constantly, BNP Secretary General Mirza Fakhrul Islam Alamgir has said.
"Awami League is a party of frauds. They have no relation with people," he said while speaking as the chief guest at a discussion at the Dhaka Reporters Unity (DRU) on Thursday.
Jatiyatabadi Samamona Jote organised the discussion titled, "Role of late Saifuddin Ahmed Moni in protecting democracy and realising one-point demand."
Referring to the attitude of Awami League leaders including its president Sheikh Hasina, Mirza Fakhrul said they talk in such a manner that Bangladesh is their ancestral property. "They believe that they own the country, and why others poke their noses into it," he said.
Mentioning about the remarks of Awami League general secretary Obaidul Quader, Fakhrul said he has conveyed the last message. He (Quader) said Prime Minister Sheikh Hasina will be the head of election-time government. She will become prime minister again being elected by people. "What is the necessity of holding the election if you are so confirmed that Sheikh Hasina will become the prime minister winning the next general election."
Cautioning the government again, the BNP secretary general said, "Still there is time. Take safe exit. Handover power to a non-party neutral government resigning from power."
The discussion was also participated by NPP Chairman Dr Fariduzzaman Farhad, Jagpa President Khondker Lutfar Rahman, General Secretary SM Shahadat Hossain, NPP Secretary General Mostafizur Rahman Mostofa, NAP Bhasani Chairman SM Shaon Sadeki, Minority Janata Party Chairman Sukriti Mondol and Jubo Jagpa President Mir Amir Hossain Amu, among others.