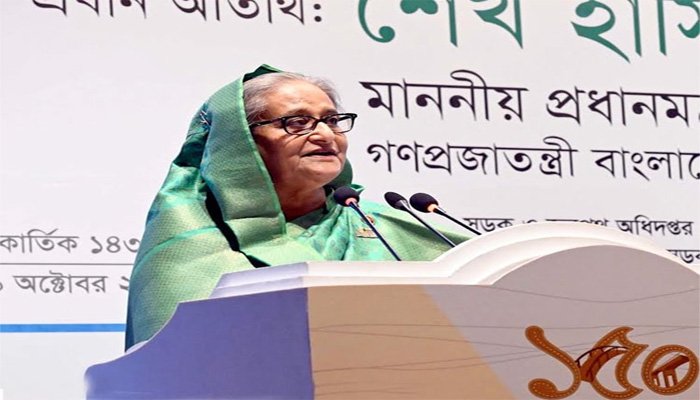 Prime Minister Sheikh Hasina on Thursday labeled BNP as a "terrorist party that kills people."
"BNP is a terrorist party and a party that kills people. They everyday want our resignation and topple us through movement. It's fine. Let them continue their movement," she told an event at Sarak Bhabhan at Tejgaon in the capital.
The premier said she won't like to call BNP as an opposition party as it has no representation in the parliament. "In a democratic system the opposition party is the one which has seats in parliament," she said.
The premier was addressing the programme arranged to mark the opening of 150 newly constructed bridges in 39 districts and 14 newly constructed overpasses of the Roads and Highways Department simultaneously, UNB reports.
She said the government has no objection to BNP's movement, but will act tough against any possible arson violence for the sake of protecting the people.
"I don't have any objection if they wage movement…. But they can't be allowed to cause any harm to the people. I think you all should be vigilant to some extent in this regard," she said.
She said it is fine that BNP and Jamaat are now waging movement. "If they go for setting bus on fire, I've asked all, including police and intelligences to take action instantly so that they can't cause any harm to the people and can go for arson violence," she added.
The PM said she won't like to call BNP as an opposition party as the opposition party is one who has seats in Parliament in a democratic system.
She said she has nothing other than the people. "I lost all –parents and brothers. I have nothing to lose. My only goal is to ensure welfare of the people of my country. We've tirelessly been doing so," she said.
Noting that BNP secured only 29 seats in the 2008 general election and later another in the by-election, she said its 30 seats out of 300 constituencies reflected the sorry state of their acceptance to the people.
"Now they say many things about free and fair election. Everything of them –words and works – is destructive. I would like to warn the people of the country about the matter," she said.
The prime minister said the development works and achievements should not be spoiled.
In the function, Hasina also unveiled the foundation stones of 1,100-metre Kewatkhali Bridge and 1,471-metre Rahmatpur Bridge over Brahmaputra river in Mymensingh, opened newly constructed DTCA Bhaban for Dhaka Transport Coordination Authority, BRTA Automated Motor Vehicle Fitness Test Centre of Bangladesh Road Transport Authority, BRTC Bus Depot and Training Centre of Bangladesh Road Transport Corporation as well as conferred the financial assistance to the road accident victims.
The PM inaugurated the infrastructures through a virtual platform from a programme, while the audiences were also connected virtually from Mymensingh Circuit House Ground and BRTA Office in Mirpur in the capital.