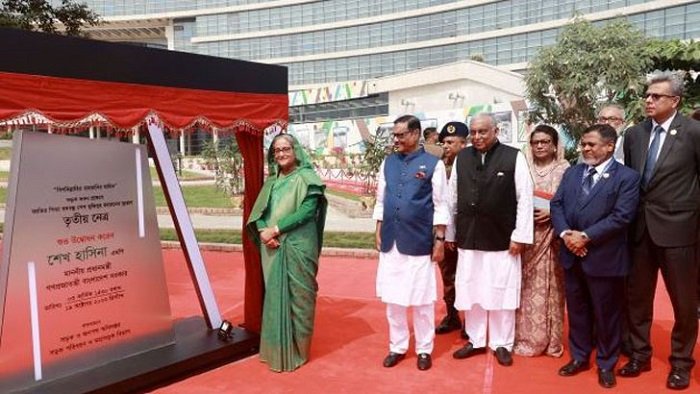 In another development milestone Prime Minister Sheikh Hasina on Thursday opened 150 newly constructed bridges in 39 districts and 14 newly constructed overpasses of the Roads and Highways Department simultaneously.
She also unveiled the foundation stones of 1,100-metre Kewatkhali Bridge and 1,471-metre Rahmatpur Bridge over Brahmaputra river in Mymensingh, while opened newly constructed DTCA Bhaban for Dhaka Transport Coordination Authority, BRTA Automated Motor Vehicle Fitness Test Centre of Bangladesh Road Transport Authority, BRTC Bus Depot and Training Centre of Bangladesh Road Transport Corporation as well as conferred the financial assistance to the road accident victims, reports UNB.
The premier inaugurated these infrastructures through a virtual platform from a programme in Sarak Bhaban in the city's Tejgaon area. The audiences were also connected virtually from Mymensingh Circuit House Ground and BRTA Office in Mirpur.
She also unveiled a mural of Bangabandhu in Sarak Bhaban, the office of Roads and Highways Department.
In less than one year since the simultaneous inauguration of 100 bridges across the country, the prime minister opened 150 more bridges — 40 bridges in Mymensingh Division, 32 in Dhaka Division, 27 in Chattogram, 22 in Rajshahi, 12 in Khulna, eight each in Barishal and Rangpur and one in Sylhet division.
Total length of the 150 bridges is 9.45km and the total length of 14 overpasses – eight in Rajshahi Division and six in Rangpur Division – is 689 meters.
The 1100-metre Kewatkhali bridge, which is set to be the largest steel-arch bridge in the country, will be constructed at a cost of Tk 3263.63 crore, while the 1471-metre Rahmatpur bridge will be constructed at a cost of Tk 358 crore by June 2025.
On November 7, 2022, PM Hasina opened the 100 bridges in 25 districts. The total length of the bridges was 5.5km.
Among the 150 bridges constructed with a total cost of Tk 3,287 crore, the notable ones include Garakola and Nayarhat bridges in Gopalganj, Chapair bridge in Gazipur, Titas bridge in Brahmanbaria, Muhuri bridge in Feni, Matamuhuri bridge in Cox's Bazar, Machrong bridge in Barishal, Tulalampur bridge in Narail, Simakhali bridge in Magura, Arialkhar bridge in Bogura, Bahagili bridge in Nilphamari, Chatak-Surma bridge in Sylhet.
Eight of the new overpasses were constructed on Elenga-Hatikamrul-Rangpur Highway.
The premier opened the distribution of financial assistance among the road accident victims and family members. A total of 162 victims or family members –42 persons from Dhaka Division, 39 from Chattogram, 26 from Rajshahi, 18 from Rangpur, 11 from Khulna, 10 each from Mymensingh and Sylhet and six from Barishal division-received the financial assistance in the function.
Tk 5 lakh was given for a death victim's family, while Tk 3 lakh was provided to a seriously injured person and Tk 1 lakh to an injured person.
The distribution of the financial assistance among the road crash victims will continue.
Road Transport and Bridges Minister Obaidul Quader, Chairperson of Parliamentary Standing Committee on the Ministry of Road Transport and Bridges Rowshan Ara Mannan and Secretary of Road Transport and Highways Division ABM Amin Ullah Nuri spoke at the event, while Chief Engineer of Roads and Highways Department Syed Moinul Hasan delivered the welcome speech.