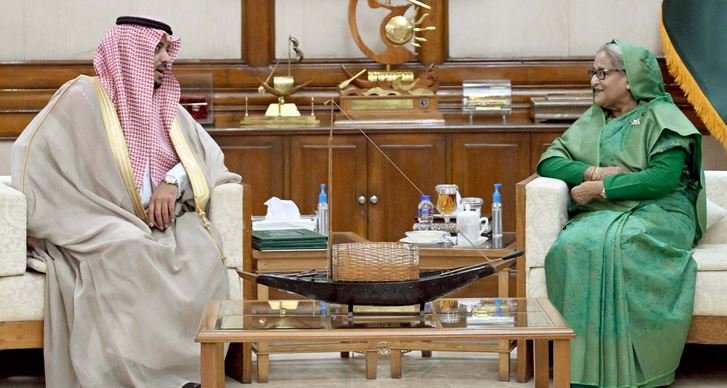 Prime Minister Sheikh Hasina on Thursday called upon the OIC neighbours to resolve their problems through dialogue in order to fight a common cause.
"…even if there is problem among the neighbours of the OIC countries resolve those through dialogue in order to fight a common cause," she reiterated her call.
She made the call when Ambassador of Saudi Arabia Essa Yousef Essa Al Duhailan met with her at her official residence, Ganabhaban amid escalation of conflicts between Israel and Palestine.
PM's press secretary Ihsanul Karim briefed the reporters after the call on.
The Saudi ambassador handed over a letter inviting the PM to participate a OIC conference on Women in Islam to be held on November 6-8 in Jeddah.
He handed over another letter seeking support of Bangladesh for his country's bid to host FIFA World Cup 2034.
The prime minister responded positively in this regard, PM's press secretary said.
The ambassador urged the prime minister for Bangladesh's renewed support for his country's bid to host Expo 2030.
Hasina informed the ambassador that Bangladesh is going to organise an Imam Conference and she invited Imams from the two Holy Mosques for attending the event.
The prime minister told the envoy that Bangladesh has already introduced currency swap with India and wanted to do the same with other countries.
The ambassador mentioned that his country would consider the proposal.
She conveyed her regards to the custodian of the two Holy Mosques.
She said that people of Bangladesh have special place for Saudi Arabia in their hearts.
The ambassador lauded Bangladesh's steady progress under the leadership of PM Hasina, said the press secretary.