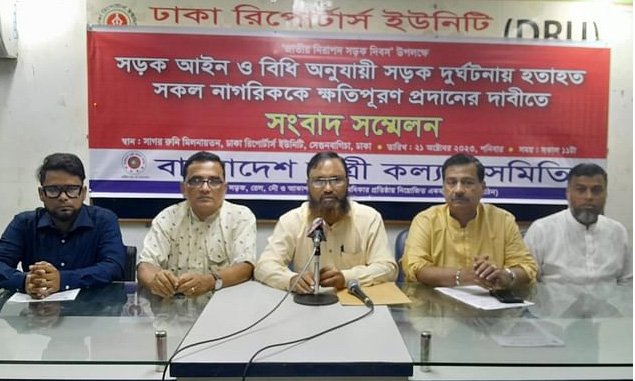 Bangladesh Jatri Kalyan Samity has demanded Tk 10 lakh as compensation for the family of each victim killed in road accidents and Tk 5 lakh for the injured people.
According to the existing law, 2018, families of each deceased are allowed to Tk 5 lakh and the injured to Tk 3 lakh from the road accident victims' financial assistance fund.
It said the government, for the first time, provided compensation worth Tk 7.8 crore to 162 road crash victims and their families on Thursday.
The Samity, a group working on road safety, has demanded to increase the amount.
Mozammel Hoque Chowdhury, secretary general of the Jatri Kalyan Samity, placed the demands at a press conference held at Dhaka Reporters Unity in the capital on Saturday marking the National Road Safety Day to be observed on Sunday.
It also demanded full implantation of the existing law in all road accident cases.
He said the road crashes across the country have increased for not taking proper steps to tackle the accidents.
Giving reference from the Accident Research Institute (ARI), Buet , the Samaity said around 54 per cent victims were from 16 to 40 years old age group in road accidents occurred in the last 10 year.
The samity said around 4,016 road accidents occurred from January to September this year, killing 3,727 people and injuring 5,781.
It also said every year around 80,000 people became physically disabled due to the road accidents.
Of the injured, 12,000 are under 17 year-old. According to those statistics, on an average 220 people became disabled everyday in road crashes.
Mozammel also said even though the BRTA and the Road Transport and Bridges Ministry have formed Road Safety Units, they do not have any research to prevent road accidents. As a result, the number of road accidents and deaths is increasing every year.