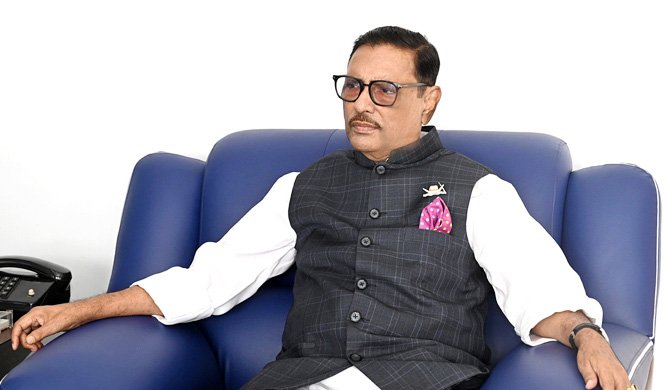 Awami League (AL) General Secretary Obaidul Quader on Monday said BNP is trying to create anarchy in the country ahead of the next general elections.
Claiming that the ruling Awami League always respects democratic culture and values, he reiterated that in line with the country's constitution, the next national elections would be held on time following the democratic process.
"We expect a free and fair election with the participation of all political parties to be held in a peaceful environment. But BNP is hatching plots to spoil the polls," he said in a statement, reports BSS.
Quader, also the road transport and bridges minister, said BNP is trying to create anarchy through provocation ahead of the next general elections as the party is out grab the state power in any way.
If the country's democratic environment is destroyed due to the ill-efforts of BNP, the party will have to take its responsibility, he said.
The AL general secretary said BNP leaders are repeatedly showing exaggeration in their statements, which is a threat to the country's independent and sovereignty.
"Because they do not believe in the independence of Bangladesh and they can play any game with the country and its people," he said.
The BNP leaders are today begging sympathy to their foreign masters to seize the state power, Quader said, adding they are paving a way to destabilise constitutional governance through conspiracy and hand over the state power to unelected forces.
The AL is committed to keeping the country's constitution and sovereignty effective, he said.
The road transport and bridges minister said BNP is creating panic among the common people in the name of the so-called rally on October 28 as part of a series of its conspiracy.
Along with the peaceful people, the AL leaders and workers will take a cautious stand against the terrorism and anarchy of BNP, he said.
Quader said the AL leaders will not allow the country's democratic progress and stable environment to be disrupted in any way.
Countless AL leaders and activists have sacrificed their lives in the struggle to establish the people's freedom, liberation and democratic rights, he said.
This time too, the AL men are ready for any sacrifice to keep the pace of development, progress and prosperity of the country smooth under the leadership of Bangabandhu's daughter, Prime Minister Sheikh Hasina, the AL general secretary added.