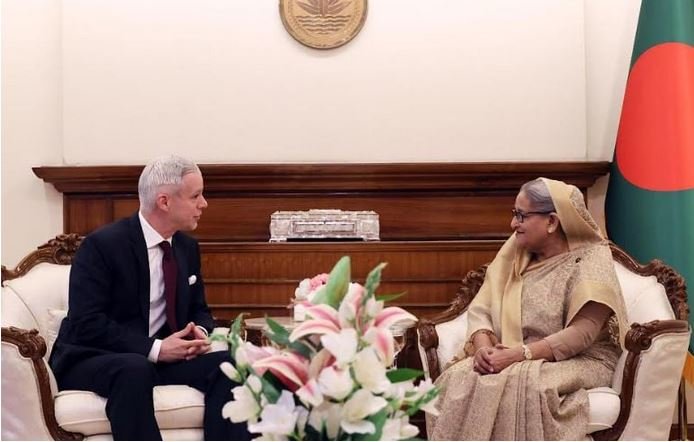 Prime Minister Sheikh Hasina on Monday urged the Swiss entrepreneurs to come up with investment at special economic zones (SEZs) in Bangladesh, saying her government wants to develop a broad-based partnership.
"We will provide lands (in SEZs). They (Swiss entrepreneurs) can make a mini Switzerland in Bangladesh," she said when Switzerland Ambassador Reto Siegfried Renggli paid a courtesy call on her at her office, reports BSS.
Prime Minister's Press Secretary Ihsanul Karim briefed the newsmen after the meeting.
"We look forward to transforming Bangladesh-Switzerland bilateral relations into a broad-based partnership," Karim quoted the premier as saying.
According to Karim, the envoy said the Swiss companies are also interested to invest in Bangladesh.
Mentioning that the volume of trade between Bangladesh and Switzerland should be increased, he said he will continue to work for further strengthening the bilateral relations and cooperation.
He appreciated the economic development of Bangladesh under the leadership of Prime Minister Sheikh Hasina in the last one decade.
The envoy also said that Switzerland would work together with Bangladesh to fight the adverse impact of climate changes.
The prime minister said the focus of her government is on the development of rural people of Bangladesh.
"The backbone of development is middle class people," she said, adding "we are taking many programmes to reduce the extreme poverty rate to zero, at least one percent".
She mentioned that Father of the Nation Bangabandhu Sheikh Mujibur Rahman had a vision to "make Bangladesh as the Switzerland of the East".
Sheikh Hasina recalled that she was with Bangabandhu when he visited Switzerland at the invitation of Swiss government after undergoing surgery in London.
Talking about connectivity, she said her government is developing the airport so Bangladesh can bridge the East and West.
The premier assured the ambassador of extending all necessary cooperation in discharging his duty in Dhaka.
The Swiss envoy handed over a letter to Sheikh Hasina, which Bangabandhu sent to the Switzerland government in replying to Swiss recognition of Bangladesh as an independent country.
Receiving the letter, the prime minister said it (the letter) will be kept in the museum.
Prime Minister's Principal Secretary M. Tofazzel Hossain Miah and Deputy Head of Swiss Mission in Dhaka Corinne Henchoz Pignani were present.