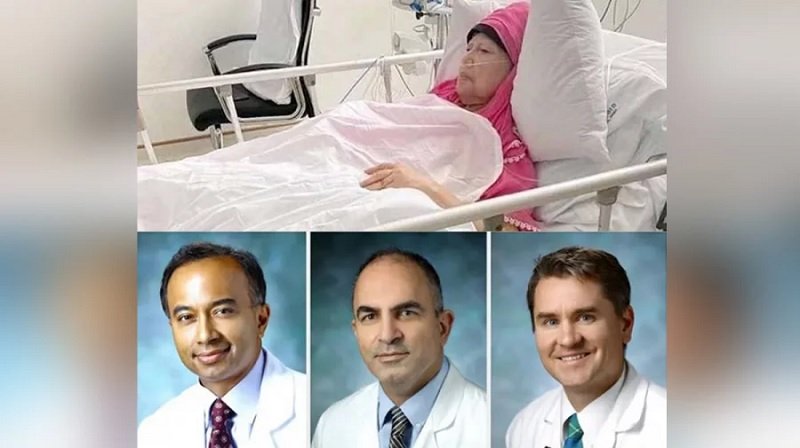 Three specialist doctors who came from the United States on Thursday conducted the surgical operation of the liver of BNP Chairperson Khaleda Zia on Thursday night.
They were accompanied by Dr FM Siddiqui, Dr AZM Zahid Hossain, Dr Abdullah Al Mamun and Dr Nuruddin Ahmed.
The operation was going on at an operation theatre of Evercare Hospital at Gulshan in the capital till writing this report at 9:30pm on Thursday.
Earlier, the specialist physicians assessed Khaleda Zia's health condition.
The US doctors–Hamid Rabb, Christos Georgiades and James P. A. Hamilton from Johns Hopkins University's School of Medicine–went to the hospital around 1:30 pm and had a meeting with the BNP chief's medical board members, said BNP media cell member Sayrul Kabir Khan.
Quoting Khaleda's personal physician Professor AZM Zahid Hossain, he also said the three physicians also reviewed various medical test reports of the BNP chief and visited her at her cabin.
Sayrul said the US doctors discussed with the medical board about Khaleda's next course of treatment.
UNB adds: On Wednesday, Dr Hamid Rabb, and Dr. James P. A. Hamilton reached Hazrat Shahjalal International Airport around 7:15pm. Another physician Christos Georgiades arrived at the airport around 2:00am on Thursday.
The BNP Chairperson's family brought the three doctors—who are experts in various departments such as nephrology, hepatology, international radiology and liver-kidney transplant–from the USA after a discussion with the medical board at the Evercare Hospital. They manage patients with Transjugular intrahepatic portosystemic shunt or liver cirrhosis.
BNP Chairperson Khaleda Zia has been undergoing treatment at the Evercare Hospital in Dhaka since August 9 under the supervision of a 19-member medical board led by renowned specialist Professor Dr Shahabuddin Talukder.
The 78-year-old former prime minister has been suffering from various ailments, including liver cirrhosis, arthritis, diabetes, kidney, lung, heart, and eye problems.
On October 9, the BNP chief's medical board at Evercare Hospital recommended that she be urgently sent to a multidisciplinary centre abroad soon as there are now no treatment options available for her in Bangladesh.
Addressing a press conference at the hospital, the board also said the former prime minister's life is at risk because of a lack of proper treatment to stop water accretion in her stomach and chest, internal bleeding and infections caused by her liver cirrhosis problem.