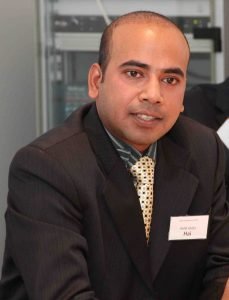 Ansar Ahmed Ullah:
Chief Editor of Our Voice Online and former Deutsche Welle DW journalist Dr. Hossain Abdul Hai got a Fellowship for Covering Rare Diseases from the National Press Foundation (NPF) from the United States of America (USA).
Publishing the final selection of the global fellows, NPF congratulated 25 journalists who were selected for NPF's 2023 Covering Rare Diseases Fellowship. It added the fellows will gather virtually from November 13-17, 2023, where they will participate in online briefings and question-and-answer sessions with top experts in rare diseases, diagnostics, targeted testing and drug development, as well as from leaders of patient advocacy groups and journalists who have covered these issues extensively. The journalists selected as fellows for this program will also receive reporting grants to cover travel expenses and time in executing a rare disease project of their choosing.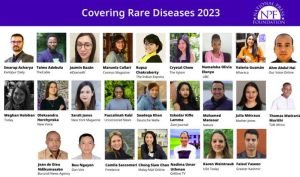 Former journalist of Deutsche Welle (DW) and Editor of expatriate magazine Schimanto (Grenze), Dr. Abdul Hai, expressed gratitude to the NPF Team and Jury for picking up the idea of reporting on a rare disease, from which only a pair of Bangladeshi patients are suffering. This fellowship will encourage other journalists and medical practitioners and researchers to focus on the untold stories of these patients.
In a reaction, Dr. Abdul Hai said, 'This is a big success and recognition for the whole team of journalists, contributors and well-wishers of the tri-lingual international media platform Our Voice Online, which has been focussing on the human stories through its investigative research and ethical presentation for the critical analysis and innovative solution in the social, cultural, political and scientific issues. That is why Our Voice report previously got the Hostwriter Best Award in 2016 from Berlin.'
Notable, Dr. Abdul Hai has worked for about five years in Deutsche Welle in Bonn since 2009. Before joining DW, he worked in Bangladesh Television (BTV), Bangladesh News Agency (BSS), the Daily Star and the New Nation for about one decade. With two other colleagues, he won the Hostwriter Media Award from Berlin in 2016 for their in-depth report on Bangladeshi Refugees in Germany. Dr. Hai has worked with One World Network NRW for five years since 2017. He has interviewed more than 50 female freedom fighters of the Liberation War of Bangladesh 1971 and broadcast over DW radio programs. He was honoured with the Panos Fellowship and Panos South Asia Award in 2007 for his series of in-depth reports on poverty alleviation and poverty reduction strategies in Bangladesh. In the development field, he has worked with Life Learning Development e.V., Afridat Innovation UG, BASUG Diaspora and Development, CCD Bangladesh, PANOS and Bangladesh NGOs' Network for Radio and Communication (BNNRC) with significant responsibilities.