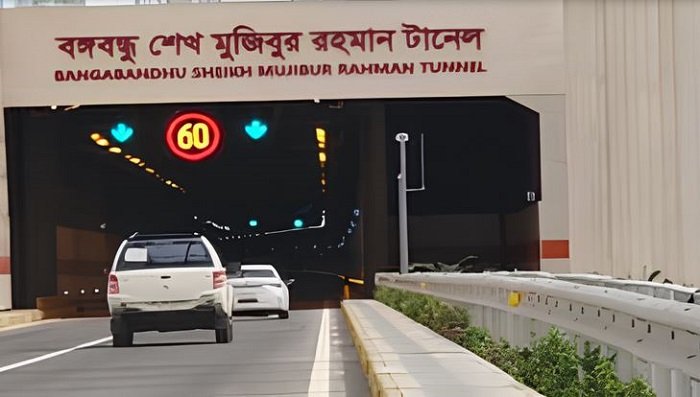 The Bangabandhu Sheikh Mujibur Rahman Tunnel in Chattogram opened for vehicular movement on Sunday morning.
The tunnel was opened for vehicular movement at 6:00am on Sunday.
Earlier on Saturday, Prime Minister Sheikh Hasina inaugurated the country's first underwater tunnel built under the Karnaphuli River, reports UNB.
However, traffic movement remained low due to the on-going countrywide hartal called by the opposition parties.
Several vehicles have been seen waiting for driving through the tunnel since early morning, reports UNB's Chattogram correspondent.
Munshiganj-based businessman Jewel Rana was the first passenger to pay the toll at the Anwara end of the tunnel at 6:00am and cross it in just three minutes.
Dulal Sikder from Chattogram was the first to pay the toll at the Patenga end of the tunnel.
Toll manager Belayet Hossain said 217 vehicles crossed the tunnel in the first three hours.
"The tunnel was opened for traffic in the morning. Although the traffic movement through the tunnel remains low, it may increase as the day progresses. But if there was no hartal, there would have been more vehicles," he said.
As many as 14 boxes have been set up at Anwara end to collect the toll.
Deputy Project Director of the Bangabandhu Tunnel, Md. Abul Kalam Azad, said that the tunnel will remain open for vehicular movement 24 hours a day.
"Toll lanes will be reduced if traffic decreases late at night," he said.
Vehicles can run at a maximum speed of 60 kilometres in the tunnel.
According to the Bridges Division, as many as 17,374 vehicles will cross the tunnel every day in the first year after the opening. Of these, 3,218 are heavy vehicles. In 2025, the number of vehicles passing per day will be 28,305.
A total of 12 categories of vehicles will be able to ply through the Bangabandhu Tunnel.
The minimum toll for traffic movement in the tunnel has been fixed from Tk200 to a maximum of Tk1,000. However, motorcycles or three-wheelers will not be allowed in the tunnel.
On Saturday. the prime minister crossed the Bangabandhu Tunnel in a 21-vehicle motorcade and paid a toll Tk4,000.