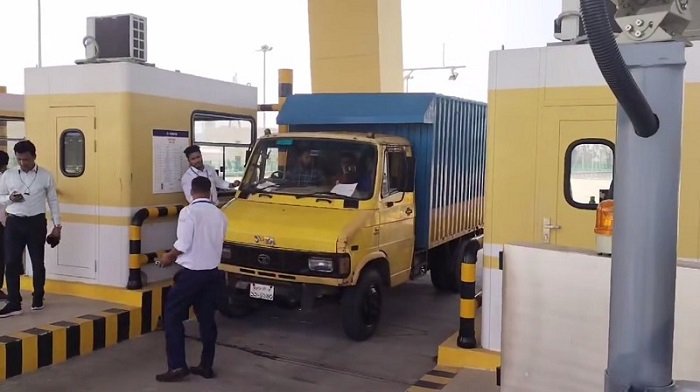 The authorities collected Tk 7.1 lakh as toll on the second day as some 3200 vehicles went through the tunnel under the Karnaphuli River till 6 pm on Monday.
Belayet Hossain, director of Bangabandhu Tunnel, (toll division), said some 3205 vehicles went through the Bangabandhu tunnel from 6 am to 6 pm on Monday and during this period, Tk 7.1 lakh was collected as toll.
Earlier, on Sunday, the tunnel authorities collected Tk 12,13,300 as toll as 5,429 vehicles used the tunnel on the first day of opening.
The tunnel opened for vehicular movement at 6 am on Sunday. Traffic movement remained low due to the ongoing countrywide hartal called by the opposition parties on Sunday.
Prime Minister Sheikh Hasina inaugurated the country's first underwater tunnel on Saturday.
As many as 14 boxes have been set up at Anwara end to collect the toll.
According to the Bridges Division, as many as 17,374 vehicles will cross the tunnel every day in the first year after the opening. Of these, 3,218 are heavy vehicles. In 2025, the number of vehicles passing per day will be 28,305.
A total of 12 categories of vehicles will be able to go through the Bangabandhu Tunnel.
The minimum toll for traffic movement in the tunnel has been set at Tk 200, and the maximum is Tk 1,000. Motorcycles or three-wheelers will not be allowed in the tunnel.
On Saturday, the prime minister crossed the Bangabandhu Tunnel with a 21-vehicle motorcade and paid a toll of Tk 4,000.