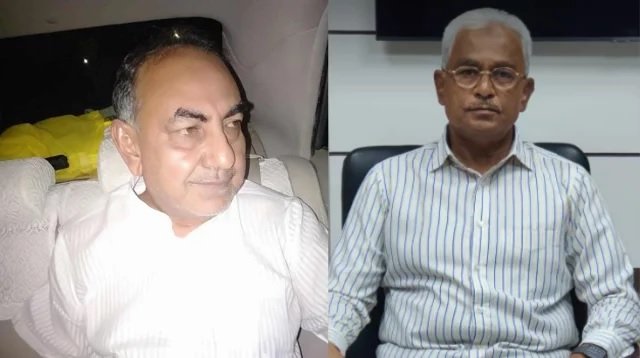 BNP standing committee member Mirza Abbas and Joint Secretary General Syed Moazzem Hossain Alal were arrested from Shahjahanpur area in Dhaka on Tuesday night.
Mirza Abbas was arrested at about 8:15pm from Shahidbagh area in Shahjahanpur, while Syed Moazzem Hossain Alal was arrested by the DB from the same area.
Following their arrest, they were taken to the Detective Branch office at Minto Road in the capital, said DB chief Harun Or Rashid. "They will be produced before court on Wednesday morning," he said.
Following the issuance of arrest warrant from court against Mirza Abbas, police cordoned off Shahjahanpur residence of Mirza Abbas from Tuesday morning. He was arrested from Dhaka Bank branch at Shahidbagh area at night, DB chief Harun Or Rashid said.
Judge Manzurul Imam of the Special Judge Court-6 of Dhaka on Tuesday issued arrest warrant against Mirza Abbas cancelling his bail in a case filed by the Anti-Corruption Commission (ACC) for concealing of wealth information beyond their known sources of income.
Both Mirza Abbas and Alal were also accused in a case filed with Paltan Police Station over the death of a police constable during a clash on the day of BNP's grand rally on October 28, he said.
Police constable Amirul Islam Parvez was beaten and hacked to death on the day of BNP's grand rally at Nayapaltan in the capital on Saturday (October 28) last. On the following day, SI Mashuk Mia of Paltan Police Station of the capital filed a case being the plaintiff.
In the case, BNP secretary general Mirza Fakhrul Islam Alamgir, standing committee members Mirza Abbas, Gayeshwar Chandra Roy and Amir Khasru Mahmud Chowdhury, vice-chairman Shamsuzzaman Dudu and Ahmed Azam Khan, senior joint secretary general Ruhul Kabir Rizvi, joint secretary general Habibun Nabi Khan Sohel, central Jubo Dal president Sultan Salahuddin Tuku, and Swecchasebak Dal president SM Jilani were made accused.
Besides, 164 other leaders and workers including Nipun Roy were made accused in the case.
Moreover, several thousand more unnamed people were made accused.
Earlier on Sunday morning, BNP Secretary General Mirza Fakhrul Islam Alamgir was arrested from his Gulshan residence. BNP observed a countrywide dawn-to-dusk hartal on that day to press home its one point demand of the ouster of government from power. He was sent to jail on Sunday night showing arrested in a case filed over attacking Chief Justice's residence at Kakrail in Dhaka on Saturday last.