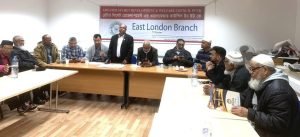 Muhammed Shahed Rahman :
An executive committee meeting of the Greater Sylhet Development and Welfare Council in UK East London Branch initiative was held at the GSC head office.
Barrister Ataur Rahman, Central Chairperson of GSC, was present as the chief guest in the meeting held recently under the chairmanship of Abdul Malik Kuti, the organization's chairperson, and under the management of associate general secretary Saleh Ahmed.
Treasurer of the organization Abul Miah presented the financial report of the previous day in the meeting.
Among others who spoke were South East Region Treasurer Sufi Suhail Ahmad, South East Region Vice Presidents MA Gafur and Akhlaqur Rahman, Abab Mia, Jagambar Ali, Mazir Uddin, Abdus Subhan, Churuk Mia, Kamran Beg, Haji Irfan Ali, Amir Hossain, Ashraf. Chowdhury, Golam Quddus Kamrul, Noor Ahmad and others.
In the meeting, it was unanimously decided to hold the AGM of the organization at 6 o'clock on November 27 at the central office of GSC. All are requested to attend the said AGM meeting.
The meeting expressed deep grief over the death of eminent politician and journalist Chhamir Uddin, vice president of the East London branch, and prayed for the repose of the soul of the deceased.