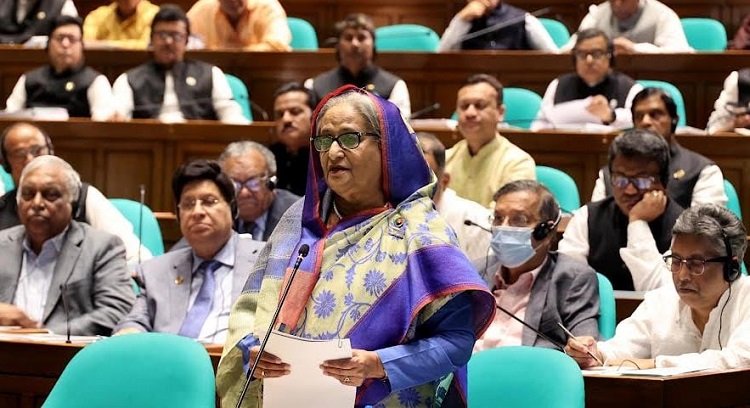 Prime Minister Sheikh Hasina on Thursday urged the people to stand in unison against the arson terrorists and decide whether they want a developed Bangladesh or a destroyed country.
"I want to know from the countrymen which Bangladesh they want – debris of destruction or a developed Bangladesh," she said while addressing the 25th and last session of the 11th Parliament, reports BSS.
The Prime Minister asked the countrymen whether they want to continue upgrading their living standard or not.
"If they want so, they have to send the Awami League to power again as it will be possible for the party. You have voted for the 'Boat' and only the symbol 'Boat' can ensure (your) developed life," she said, adding the BNP-Jamaat clique can only give destruction.
"They don't want the (country's) independence and the welfare of the people. This is the reality," she said.
She said her party will try their best to work for the people standing beside them.
The Premier said they will build a developed, prosperous and Smart Bangladesh by 2041.
"We want the country's advancement to be continued," she said.
She sought cooperation from the countrymen so that none can play ducks and drakes with their fate, urging the people to stand against the arsonists together.
"I call upon the countrymen to help the law enforcers to capture those who were involved in arson and criminal acts," she said.
She also asked the people to burn the hands which are out to torch vehicles.
"You have to do it collectively. It will be possible to reduce the criminal acts in such ways. There is nothing to fear because their number is very few," she said.
Speaker Dr Shirin Sharmin Chaudhury chaired the session.