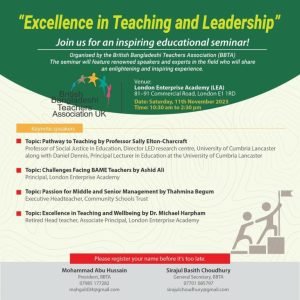 British-Bangladeshi Teachers Association (BBTA) will hold a seminar on Education and Teaching.
This seminar will be held at the London Enterprise Academy (School) located at 81-91 Commercial Road in East London on Saturday, November 11 from 10:30 am to 2:30 pm.
Its postcode is, London E1 1RD. The theme of this seminar is 'Excellence in Teaching and Leadership'.
The aim of the seminar is to encourage those who have a bachelor's degree or are studying for a bachelor's degree or are working in schools as teaching assistants, especially those who may be thinking about teaching in the near future while studying in schools and colleges, and to provide information about the various ways to enter the profession and its origins. to give or inform. 
Currently those who are engaged in teaching, they aspire to occupy various responsible positions and higher positions in this profession, even have a desire to be appointed to the final leadership (Head Master), to motivate them and make them aware of what to do to acquire the necessary qualifications in this regard.
The seminar will be lectured by experts in teaching and learning, Sally Alton-Sharcraft, Professor of Social Education, University of Cambria. Daniel Dennis – Principal Lecturer of Education, University of Cumbria. Ashid Ali – Principal, London Enterprise Academy. Tahmina Begum – Executive Headteacher, Community Schools Trust. Dr. Michael Harpham – Retired Head Teacher.
In the seminar, there is a golden opportunity to get a clear idea about different ways of engaging in teaching, the challenges of Bengali and minority community teachers in teaching, excellence in teaching. BBTA sincerely invites anyone who is interested in the future prospects of the teaching profession or is interested in considering it as a profession and is interested in maintaining the continuity of this profession and promoting themselves to higher levels (promotion) or who sincerely desire it to join this seminar.
Those who are interested in participating in this seminar of BBTA are asked to contact the general secretary of the organization Sirajul Basit Chowdhury (07701 085 797) and Mohammad Abu Hossain (07985 177 282) for details and registration.