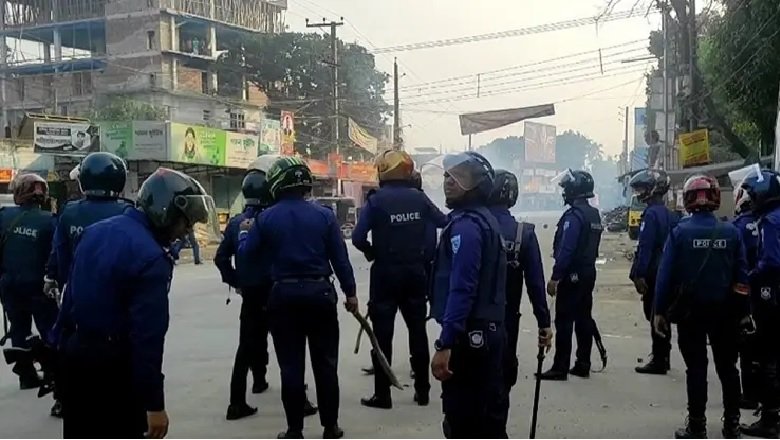 Two separate cases were lodged accusing over 250 leaders and activists of BNP-Jamaat in connection with the clashes with the ruling Awami League's student wing Chhatra League and police during a daylong hartal enforced by the BNP on Wednesday.
One of the cases was filed by Chhatra League leader Imon Ahmed and the rest by sub inspector Kallol with Kotwali Police Station on Thursday night, confirmed officer-in-charge Mohammad Ali Mahmud.
Of them, 14 fellows of the BNP, its associate bodies' fellows, and Jamaat-Shibir men were named accused and 50 to 50 unidentified individuals in the Chhatra League case.
The named accused in the case are city unit Jatiyatabadi Chhatra Dal (JCD) President Sudip Jyoti, General Secretary Fazle Rabbi Ahsan, District chapter General Secretary Delwar Hossain Dinar, District Swechchhasebak Dal Convenor Abdul Ahad Khan Jamal and Member Secretary Shakil Morshed, former city BNP Member Secretary Mifta Siddiqui, District BNP Member Mahbubul Haque Chowdhury, Metropolitan BNP Joint Convener Afsar Khan, BNP's Mominul Haque and former JCD leader Maksud Ahmed and fellows of Jamaat-Shibir- Fakhrul Islam, Abdur Rahman, Oliur Rahman and Joynal Abedin.
In the police case, 14 people were named accused and 170 to 180 unnamed individuals.
The named accused are city unit JCD general secretary Fazle Rabbi Ahsan, district chapter general secretary Delwar Hossain Dinar, JCD leaders Abdus Salam Titu, Ubaid, Oliur Rahman Jhunu, former JCD leaders Arafat Chowdhury Zaki, Tarek, Shakil Murshed, Jamaat-Shibir's Afzal Ahmed, Shujaat Ahmed, Raihan, Abib, Nasir and Shibbir Ahmed.
A tripartite clash on Wednesday erupted among the fellows of BNP, JCD, Jamaat-Shibir, Chhatra League and police personnel at and around Karimullah Market in the city, during the daylong hartal enforced by the BNP's youth wing Jubo Dal in protest against the death of one of the fellows after being chased by police during a blockade in Dakkhin Surma upazila of Sylhet district on Tuesday.