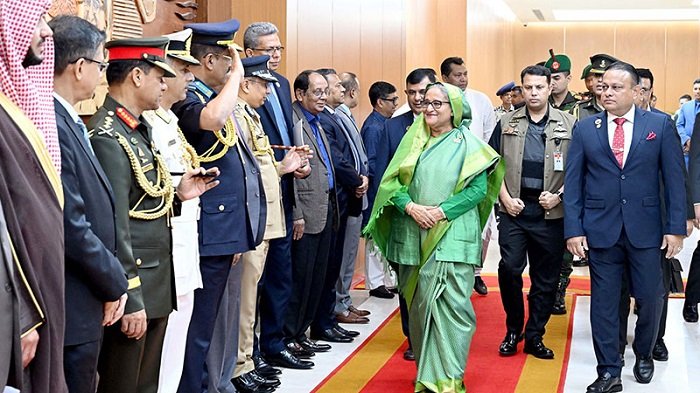 Prime Minister Sheikh Hasina left Dhaka for the Kingdom of Saudi Arabia (KSA) on Sunday morning to attend the International Conference on Women in Islam to be held in Jeddah.
The Kingdom in coordination with the General Secretariat of the Organization of Islamic Cooperation (OIC) is hosting the conference on November 6-8.
A commercial flight of Biman Bangladesh Airlines, carrying the Prime Minister and her entourage members, departed Hazrat Shahjalal International Airport (HSIA) around 09.10am, Prime Minister's Press Secretary Ihsanul Karim told BSS.
Several cabinet ministers, cabinet secretary, chiefs of the three services, inspector general of police and head of the diplomatic corps were present at the airport to see the premier off.
She will arrive at Prince Mohammad Bin Abdul Aziz International Airport in Madina around 1:20pm local time.
The Prime Minister will perform Ziarat of the Rawja Mubarak of Prophet Hazrat Muhammad (PBUH) at Masjid Al-Nabawi in Medina and offer Fateha there after Asar prayers.
Sheikh Hasina will leave Madina for Jeddah by a train.
Later, the Prime Minister will perform holy Umrah at the Al Masjid Al-Haram ((Kaaba Sharif))in Makkah after Esha prayers.
On November 6, the Prime Minister will attend the conference and deliver her speech.
She is also scheduled to have meetings with OIC Secretary General Hissein Brahim Taha, Iranian vice president for Women and Family Affairs Department Enseieh Khazali, Executive Director of OIC Women Development Organisation Dr Afnan Alshuaiby and Saudi foreign minister Prince Faisal Bin Farhan.
Apart from joining the conference, she will attend the opening of the Women in Islam Exhibition and banquet dinner in honour of her.
On November 7, Sheikh Hasina will leave Jeddah for Makkah where she will offer prayers at the Al Masjid Al-Haram (Kaaba Sharif).
In the evening, the Prime Minister will leave Makkah for home.
A Biman Bangladesh Airlines commercial flight, carrying the Prime Minister will depart King Abdul Aziz International Airport around 10:45pm local time.
The flight is scheduled to land at the HSIA in Dhaka at 8am on Wednesday (November 8).
The conference will discuss on five themes, and publication on "Jeddah Document of Women in Islam" will be published.
The 49th Session of the Council of Foreign Ministers held in Mauritania, in March 2023, called for holding an international conference on women in Islam and welcomed the offer made by the Saudi Arabia to host it in coordination with the General Secretariat.
The conference aims to clarify women's rights and responsibilities in Islam, especially women's rights to education and work as per the teachings of Islam, with broad participation from scholars of the Muslim Ummah.