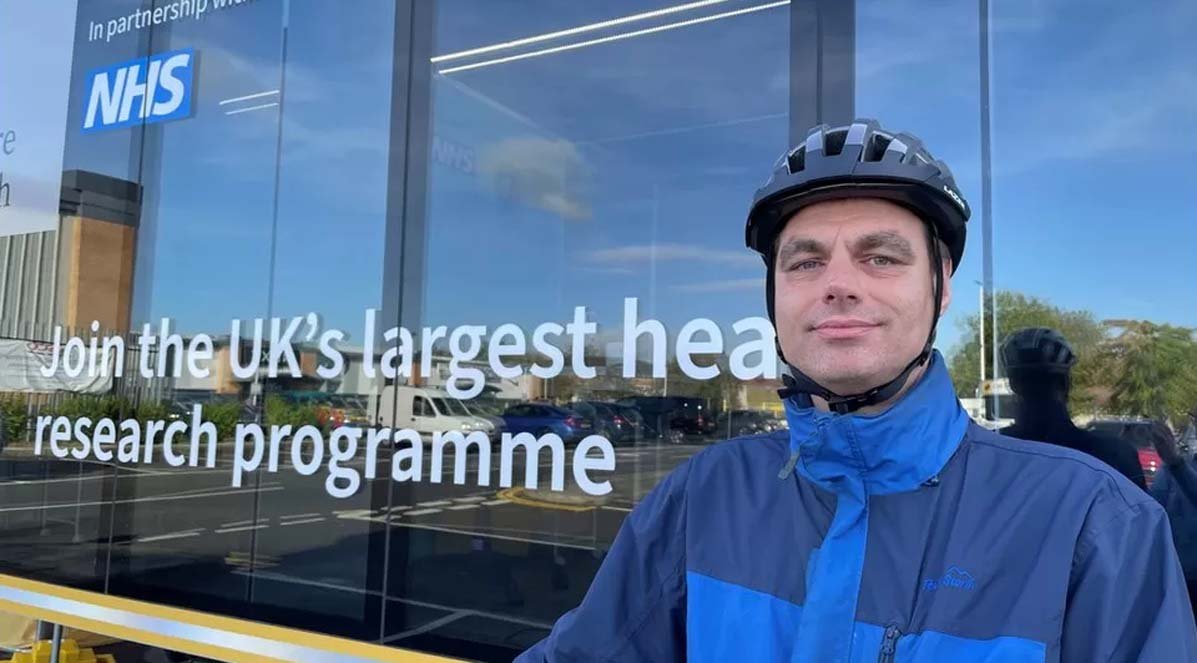 Most adults in the UK should be receiving treatment for high cholesterol but are not, while a quarter have untreated high blood pressure, the country's biggest medical-research project suggests.
Funded by government and industry, Our Future Health analyses people's genes and lifestyle to prevent disease.
The millionth volunteer of a hoped for five million adults has just enrolled.
One of the project's leaders said he was "shocked" by the findings so far.
"When we looked at the first 100,000 people we put through the system, we found that actually over half had cholesterols that should have been treated and hadn't been treated," Prof Sir John Bell, from the University of Oxford, who chairs Our Future Health, said.
"And they included people that were actually quite young.
"So we are actually quite concerned that there is quite a large amount of ill health in the population that could be very easily managed, much further beyond what I expected."
Keeping fit
Once people sign up to the research project online, they are invited to have a series of health checks performed at a mobile health centre, which are often located in supermarket car parks.
I went to one of the centres in a retail park on the outskirts of Oxford, and spoke to some of the volunteers. Each gave a blood sample, and had cholesterol, height and blood pressure measurements taken. The whole appointment takes around 15 minutes. Volunteers also fill out lifestyle and medical questionnaires online.
Jaap Van Der Werf, 45, who is originally from the Netherlands, cycled six miles for his appointment. He knows the importance of keeping fit when it comes to maintaining good health, but also realises that genetics play a part.
He told the BBC: "My parents have heart issues, so I wanted to make sure that I don't have them. And if I have something, I can make sure my children are well prepared for their future."
Gillian Ebberson, 67, is already a member of UK Biobank, a similar project set up two decades ago, which is following the health of 500,000 adults in the UK. She was wearing a heart monitor as part of UK Biobank research. She has grandchildren and wants any health advances to help them.
"I just think going forward for the future health of our children, our grandchildren and for everyone, it's a good thing."
Dr Raghib Ali, the Chief Medical Officer of Our Future Health, is a consultant in acute medicine in Oxford, so spends some of his time in A&E.
He told the BBC: "Most of my patients come in with things like a heart attack, stroke or cancer, and we know these diseases have developed over many years. With Our Future Health we are trying to move our model of healthcare from the treatment of disease at a late stage when people have symptoms, to one where we identify those at high risk earlier, intervening and preventing those diseases in the first place."
He also said it was important that people from all backgrounds signed up to prevent any further widening health inequalities, after a relative lack of diversity in previous studies.
Our Future Health is funded by the government and industry. The project team say volunteers' data is being kept in a "very secure environment" and only scientists whose research has a public health benefit will be given access.
I am also a member of both UK Biobank and Our Future Health. The new project has more personal health feedback – you come out of your appointment with a small folder of health-related measurements from heart rhythm to cholesterol levels and blood pressure.
UK Biobank has been an extraordinary success. More than 30,000 researchers from over over 90 countries have been approved to use it. And more than 9,000 peer reviewed papers have been published using its research.
Our Future Health won't complete enrolment until 2028, so has a long way to go to catch up. But its strength is its scale: it is 10 times bigger than UK Biobank. In decades to come – as the data and the participants mature – it should yield powerful insights into a range of diseases and how best to prevent, diagnose and treat them.