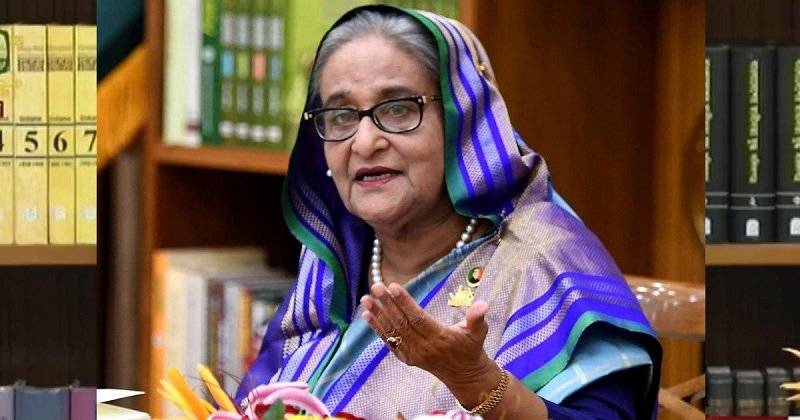 Prime Minister and Awami League President Sheikh Hasina has asked garments workers to join work accepting the newly announced minimum wage.
"I am asking the garment workers to join work under the newly increased wages. They must proceed with their work," she said while speaking at Awami League's executive committee meeting at Ganabhaban in Dhaka on Thursday (November 9).
She said, "Whenever the time comes, we provide them (garment workers) with all facilities. However, if they choose to take to the streets under someone's influence, then they will be killed by those instigating them. They are the ones who will create a situation where the workers may lose their jobs and have to return to their villages."
The prime minister said certain quarters are unhappy with the country's progress, and arson attacks have started again.
She said action will be taken against those responsible for setting fires.
Criticising BNP-Jamaat's political programmes, Sheikh Hasina said, "What else should be done if those who kill the police, attack the residence of the chief justice, and attack at hospitals are not apprehended?"
She assured that action would be taken against those involved in such acts of terror.
BNP-Jamaat has resumed burning people under the guise of movement, the premier said.
She questioned the rationale behind demanding the government's resignation, emphasising that unlike them [BNP-Jamaat], the Awami League does not resort to violence.
The prime minister also highlighted various subsidies provided in sectors such as fertiliser and electricity, along with free Covid-19 vaccination.
"Which country in the world has offered such benefits?" she questioned.
The Minimum Wage Board for the readymade garments sector finalised the increase of RMG workers' minimum wage to Tk 12,500 from Tk 8,000, an increase of 56% on Tuesday (November 8).
However, a section of workers rejected the government's newly set minimum wage of Tk 12,500.
A female garment worker was killed allegedly in "police firing" and around 10 others injured during clashes between protesting workers and law enforcers at Konabari in Gazipur on Wednesday.
RMG workers demand that their minimum wage be increased from the existing Tk 8,000 to Tk 20,390 while the owners had proposed to increase it to Tk 10,400.
On October 21, RMG workers took to the streets to demand that their minimum wage be increased from the existing Tk 8,000 to Tk 20,390.
The garments sector — the jewel in Bangladesh's export crown, with exports reaching over $46.99 billion in the fiscal year 2023 — was ravaged by protests in recent weeks centring a hike in the minimum wage.
On October 30, at least two people were killed and about 40 injured in massive clashes between police and ready-made garment workers in several industrial areas in Ashulia, Savar, and Gazipur.
Following the weeklong clashes, the factory owners on November 1 agreed to pay higher minimum wages to garment workers than Tk 10,400, which they proposed earlier.
The Minimum Wage Board sat down and finalised the pay on Tuesday.