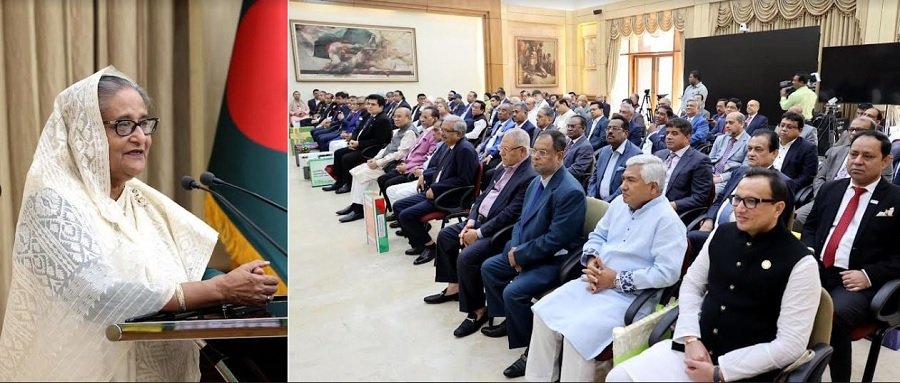 Prime Minister Sheikh Hasina has said the common people are the victims of the arson violence that has started again in the name of movement.
"I don't know who gets how much benefit from it. But some people, particularly the common people, are being victims," she said while receiving donations from different financial institutes for her relief fund at her official Ganabhaban residence in Dhaka on Friday.
The Prime Minister said buses are set on fire even keeping its sleeping staff inside the vehicle. "I don't know why such incidents are being carried out," she added.
She said, "Many quarters don't take positively the success of Sheikh Hasina."
"I've been running the country for a long time staying in power for three consecutive terms despite being a woman… I have successfully been able to change the fate of the people. I have changed the country (radically). All won't see it (this success) positively," she said.
The premier sought cooperation from all so that the image of the country remains upheld.
She said now everyone respects Bangladesh as the progress attained in the last 15 years is visible to all.
"Today's Bangladesh is a changed one from what it was 15 years ago. Now all respect it. Bangladesh is recognized as a role model for development. The progress of Bangladesh is noticeable to all," she said.
The Prime Minister asked all to work so that the momentum of the country's progress could be upheld in future.
The donation was received to distribute blankets and other warm clothes among cold-stricken people in the upcoming winter season.
The premier extended her sincere thanks to Bangladesh Association of Banks (BAB) for its initiative to make donations for her relief fund ahead of the upcoming winter season as it did in the past.
She sought cooperation from BAB to maintain a good reserve of foreign currency, arrest the high inflation and to run the economy properly amid the global economic recession-like situation.