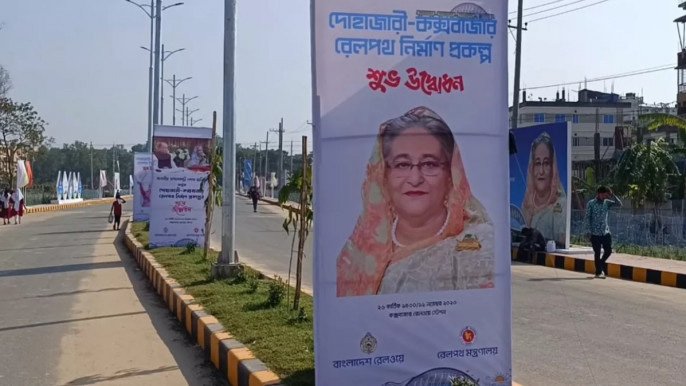 Prime Minister Sheikh Hasina will flag off the much awaited 102-kilometre Chattogram-Cox's Bazar rail line on Saturday, bridging up the country's tourist hub with the port city through the railway connectivity as well.
She will unveil the new rail route (from Dohazari in Chattogram to Cox's Bazar) for train movement from a ceremony in newly constructed Cox's Bazar Railway Station.
Major points of Cox's Bazar town and two sides of the roads are now adorned with banners, festoons, and billboards to welcome Prime Minister Sheikh Hasina who will address a public rally in the coastal town on Saturday.
Sheikh Hasina, also the Awami League president, will inaugurate 15 projects and lay the foundation stones of four other projects. She will address a rally at 2:30 pm in Moheshkhali's Matarbari.
On Saturday morning, the premier will inaugurate the iconic oyster-shaped railway station in the Hajipara area of Jhelongja Union.
According to the notification of the Deputy Commissioner, on this day, the prime minister will inaugurate 15 projects including railways and lay the foundation stones of 4 projects worth about Tk 88,000 crore.
Of these 15 projects, nine are major projects and 6 are small.
The projects to be inaugurated include railway line from Dohazari to Cox's Bazar, Matarbari Ultra Super Critical Coal-Fired Power Project, Matarbari Deep Sea Port Channel, Bridge over Bakkhali River, Connecting Kutubdia Island to National Grid through Submarine Cable, Ukhiya Waste to Power Generation Project, Technical Training Center in Ramu Upazila, expansion and development work of Chakaria Bir Mukti Joddha Shaheed Abdul Hamid Municipal Bus Terminal, Kutubdia Thanda Chowkidar Para RCC Girder Bridge, Gorakghata-Shaplapur Janatabazar Road in Maheshkhali, land filling of Water Development Board under Airport Development Project, Dam Construction Project, Eidgaon Jahanara Girls High School, Moheshkhali Yunuskhali High School, Ukhiya Ratna and Morichya Palong High School academic buildings.
On the other hand, the projects to be laid foundation stones are– 1st Terminal of Matarbari Deep Sea Port Channel, Teknaf Multipurpose Disaster Resilient Shelter cum Isolation Centre, RCC Girder Bridge Construction on Nanda Khali Road in Ramu, and Building Construction Project under Cub Scouting Expansion Scheme in District Primary Schools.
Stringent measures have been taken by law enforcement agencies to ensure foolproof security.
Cox's Bazar District Awami League has taken all preparations to make this event successful.
Mujibur Rahman, general secretary of District Awami League, said that several lakh people will gather in this public meeting. Adequate security measures have been taken by the concerned including the police administration.
Meanwhile, on the occasion of the prime minister's arrival on Saturday, the Deputy Commissioner and District Magistrate of Cox's Bazar Md Shaheen Imran banned carrying and displaying all types of legal weapons in Cox's Bazar.
He said that this measure has been taken to control law and order in the district and to ensure security during the PM's visit.