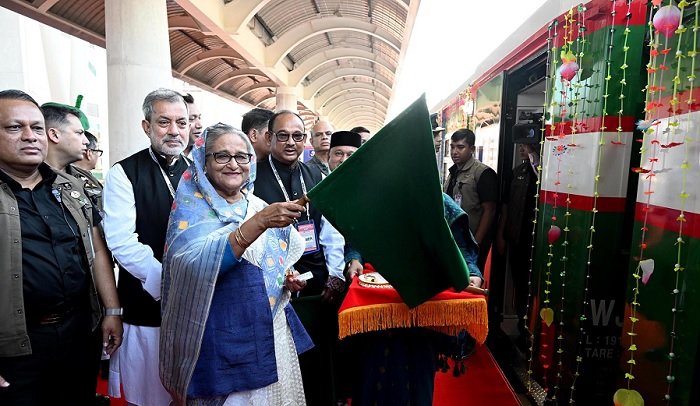 Railways Minister Md Nurul Islam Sujan has said that a train can be run commercially from Dhaka to Cox's Bazar and Cox's Bazar to Dhaka from December.
He made the remark while speaking at the inauguration of Chattogram's Dohazari to Cox's Bazar Rail Line project at Cox's Bazar Railway Station on Saturday.
Prime Minister Sheikh Hasina inaugurated the much-awaited 102km Chattogram's Dohazari-Cox's Bazar Rail Line built at a cost of Tk 18,034.47 crore. It has opened a new era in railway connectivity in the country.
However, the minister said the name of the train has not yet been fixed. Six possible names have been sent to the prime minister for selecting one of those. If she proposes any new name, it will also be adopted.
It is learnt that an intercity train on Dhaka-Cox's Bazar route will start operation from December 1 as the Bangladesh Railway has already fixed its schedule and fare.
The train will take approximately 8 hours and 10 minutes to reach Cox's Bazar from Dhaka with stopping at two stations — Dhaka Airport and Chattogram.
The train will leave Dhaka at 10:30pm and reach Cox's Bazar at 6:40am while it will leave Cox's Bazar at 1:00pm and will reach Dhaka at 9:10pm.
The fare for a non-AC Shovan chair from Dhaka to Cox's Bazar is Tk 345 while the fare for an AC chair is Tk 656.