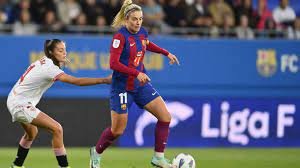 Women's Champions League holders Barcelona kick off their trophy defence this week, aiming to become only the fourth team to win the competition in consecutive years
Led by Ballon d'Or holder Aitana Bonmati and two-time winner Alexia Putellas, as well as other World Cup conquering stars, Barcelona are tasked with refining perfection, AFP reports.
Jonatan Giraldez's side came from two goals behind to beat Wolfsburg in June in Eindhoven, clinching their second Champions League win.
They have reached four of the last five finals, winning twice, and can dream of extending their dominance in Bilbao next May.
Only traditional giants Lyon and Wolfsburg, as well as Sweden's Umea, have won the Champions League in consecutive years.
Barcelona lifted a treble last season — Spain's Liga F, the Champions League and the Spanish Super Cup — but were disqualified from the Copa de la Reina.
Coach Giraldez wants the team to go one better this season and win everything, starting with their opener against Benfica on Tuesday.
"There's no need to look at where the ceiling is (for this team), but instead to get up every day to work and improve," he said last week.
"It is very difficult to match and surpass last year's performance, but we have to work for it.
"We won three of four titles, so there is still room for improvement and we have to work for that."
Barcelona face familiar opponents in the group, in Swedish champions Rosengard and Portuguese champions Benfica, both of whom were also in their group last season, and German side Eintracht Frankfurt.
"They are team that we know because we played against Benfica and Rosengard last season in the group stage," said Giraldez in October.
"Eintracht, meanwhile, are a very strong side — I had the chance to watch them live last season against Wolfsburg, before the Champions League final."
Barcelona's squad looks as strong as ever, with Salma Paralluelo starting the season in spectacular form.
The Spanish forward, who finished third in the Ballon d'Or, smashed in four goals against Sevilla earlier in November as she began her campaign to win the trophy currently held by Bonmati.
The playmaker showed supporters the golden ball before the Sevilla match and also paraded it before Barcelona's men's team beat Alaves in La Liga on Sunday.
There was no debate over the women's Ballon d'Or — Bonmati was the outstanding candidate.
– Putellas recovery –
Bonmati's sublime midfield performances ease pressure on Putellas, who is still looking for her top level after a long-term knee injury.
"The surgeon told me I won't get cleared to play and (be able to) perform straight away, but that it's a process," said Putellas in October.
"They told me a year and a half, and that's in December."
Barcelona do not have a clear outstanding option for centre-forward, and Putellas may end up taking on the role as a false nine.
Those three Spanish players are key element's of Giraldez's side, but the supporting cast is remarkably strong with explosive winger Caroline Graham Hansen to England duo Keira Walsh and Lucy Bronze, and Swedish dynamo Fridolina Rolfo.
Patri Guijarro, who netted twice in the win over Wolfsburg, and Mapi Leon, are two other key pillars, who missed Spain's World Cup triumph in the fight over improving conditions for the team.
If there is one significant doubt about the Catalans, it is their track record against record eight-time winners Lyon.
The two sides have met four times with Lyon triumphing on every occasion, scoring 10 goals to Barcelona's three.
The French side beat Barca in the 2022 and 2019 finals, as they won five titles in a row between 2016 and 2020.
Barcelona should fly through the group stage — they scored 15 against Benfica in two games last season, and 10 against Rosengard — and will be keeping a close eye on the French giants after that.