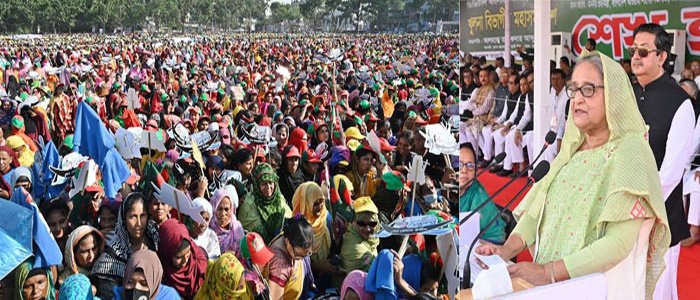 Terming BNP as the "leaderless party", the Prime Minister and Awami League (AL) President Sheikh Hasina said they just want to create an unnatural situation in the country to foil the election.
She added, "They know that they don't have any leadership. They're just a party without any head. One is absconding and another is in the jail. That party doesn't want any election in the country, rather they just want to create an unnatural situation in the country."
"BNP-Jamaat knows that in 2008 elections they got only 30 seats," she told these while addressing a grand rally as chief guest, organised by Khulna City and District Awami League at Khulna Circuit House ground on Monday.
She mentioned that next election will be held on time and all have to remain vigilant during the election time.
Sheikh Hasina said if anyone wants to set fire to any vehicle and burn people alive, then those hands have to be burnt in that fire.
"Give them a good lesson so no one dares to cause any harm to anyone of the country. That kind of incidents must not happen again," she said.
The AL chief asked her party men and members of AL's associate bodies to give protection to the people of the country together with the law enforcing agencies.
She said whenever Awami League comes in the power, the country and its people witness development and progress.
"It is very much regretful that BNP means the terror activities. The only task of BNP-Jamaat is to kill people through arson attacks," she said.
In this connection, the Prime Minister mentioned the incidents of October 28 when BNP-Jamaat terrorists killed a policeman by beating mercilessly.
She said that BNP-Jamaat terrorists injured 45 police men and attacked journalists who went there to cover their programmes.
"They attacked hospitals like the Israeli forces in Gaza. They also vandalised ambulances. I don't think that they have a little bit of humanity," she said, adding, the only quality of BNP-Jamaat is killing people.
She said that the government has already declared to award Tk 20,000 for nabbing any arson terrorist and handing to the law enforcing agencies.
"We will not spare anyone involved in killing people through arson attacks," she said.
AL president Sheikh Hasina also called upon the people to cast their votes for 'boat' in the forthcoming national election to give her party the opportunity to serve them again.
She said, "It's my call to you (the country's people) to give us the opportunity to serve you again by casting your vote for boat (AL's electoral symbol)".
Sheikh Hasina said 'boat' has given independence, boat has given development, Bangladesh has attained the status of developing nation as you have voted for boat, and this vote will give the smart Bangladesh of 2041."
In the smart Bangladesh, she said, population of the country will be smart and they will have smart government, smart economy and smart society.
"Bangladesh will be smart, developed, prosperous, modern knowledge-based Sonar Bangla as dreamt by Father of the Nation Bangabandhu Sheikh Mujibur Rahman," she added.
To attain this, the premier laid emphasis on the continuation of democratic trend what the country has been witnessing since 2009.
"As the continuation of democratic trend is prevailing in the country, the development of Bangladesh is visible," she added.
Regarding the agitation of readymade garment (RMG) workers, the Prime Minister said that considering inflation, the salary of government employees has been increased by only 5 per cent, but the wage of garment workers has been increased by 56 per cent.
Sheikh Hasina said after assuming power in 1996 she found that the wage of RMG workers was only Tk 800 (per month) and then she increased it to Tk 1,600. But during the regime of BNP, Begum Khaleda Zia didn't hike their wage by a single penny, she added.
"Not Zia, Ershad or Khaleda Zia, it is the Awami League that has hiked has hiked their wage," she added.
She said that the minimum wage of RMG workers has been fixed at Tk 12,500 now.
She also said that after taking over office in 2009 her government increased it to Tk 3,200 from Tk 1,600, then Tk 5,200 from Tk 3,200 and Tk 8,200 from the Tk 5,200.
"Although the RMG sector is a private sector, the government has hiked their wage through discussion with the owners," she added.
The Prime Minister asked where their (RMG workers) objection is. "Some 19 factories were destroyed. Who is doing this destruction? Who is among them? It is necessary to find out and see," she added.
Regarding the introduction of the Universal Pension Scheme, the head of government urged all to avail the pension scheme, saying it is a protection for all.
Prime minister Sheikh Hasina inaugurated 24 development projects, involving Tk 2593 crore and laid foundation stones for another five schemes during a day's trip to Khulna.
Awami League General Secretary and Road Transport and Bridges Minister Obaidul Quader, MP, Sheikh Helal Uddin, MP, Sheikh Salauddin Jewel, MP, and Sheikh Sharhan Naser Tonmoy, MP, also spoke.
Khulna City AL President and Khulna City Corporation (KCC) mayor Talukder Abdul Khaleque chaired the rally.
Before joining the rally, the premier joined a view-exchange meeting with the officials of different government offices in Khulna division.
In Khulna, Sheikh Hasina previously addressed a rally five years back on March 3, 2018.