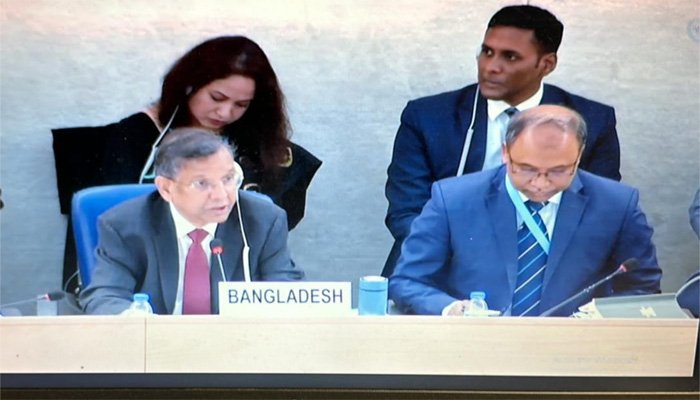 Law Minister Anisul Huq on Monday conveyed to the UN Human Rights Council that BNP's demand for holding polls under a caretaker government is "completely unconstitutional and illegal".
Mentioning Bangladesh's independent Election Commission, he said the government is committed to hold the next national election in a "free, fair and peaceful" manner with the participation of people.
Taking part at the United Nations Human Rights Council's Universal Periodic Review (UPR) in Geneva, the Law Minister highlighted BNP's violence and destruction on October 28-29.
Apart from brutally beating one policeman to death, they attacked the residences of the chief justice and other judges, and torched police outposts, he said.
He said the policeman was beaten to death in broad daylight, and noted that there has been no arbitrary arrest but the law enforcement agencies went by the law of the land.
The law minister is leading the Bangladesh delegation at the review meeting that began at 3 pm (Bangladesh Time).
Foreign Secretary Masud Bin Momen and Permanent Representative of Bangladesh to the UN Offices in Geneva, Mohammad Sufiur Rahman, among others are taking part in the meeting.
The law minister in his remarks said the government maintains a zero-tolerance policy against any human rights violation and highlighted the political space given to opposition parties.
He also talked about the Rohingya crisis, noting that Bangladesh alone cannot resolve the crisis imposed by Myanmar.
The law minister also highlighted the continued political stability and significant economic development in Bangladesh.
Delimitation of Constituencies Act-2021, the Chief Election Commissioner and Election Commissioners Appointment Act-2022 and Parliament Election (Electronic Voting Machine) Rules-2018 were enacted and Conduct Rules for Political Parties and Candidates 2008 and Election Conduct Rules-2008 were amended since 2018 to make elections more fair, inclusive, and credible, said the law minister.
The Chief Election Commissioner and Election Commissioners Appointment Act 2022 ensures an impartial and capable EC and is the first ever law of this kind in the country as well as in the subcontinent, he said.
Bangladesh's first, second and third UPRs took place in February 2009, April 2013, and May 2018, respectively.
In its submitted national report, Bangladesh said it would continue to strengthen its institutions and measures to promote and protect human rights.
The UPR working group comprises the 47 member states of the Human Rights Council. However, each of the 193 UN member states can participate in a country review.
Established in March 2006 by the UN General Assembly in resolution 60/251, the Universal Periodic Review (UPR) is designed to prompt, support, and expand the promotion and protection of human rights in every country.