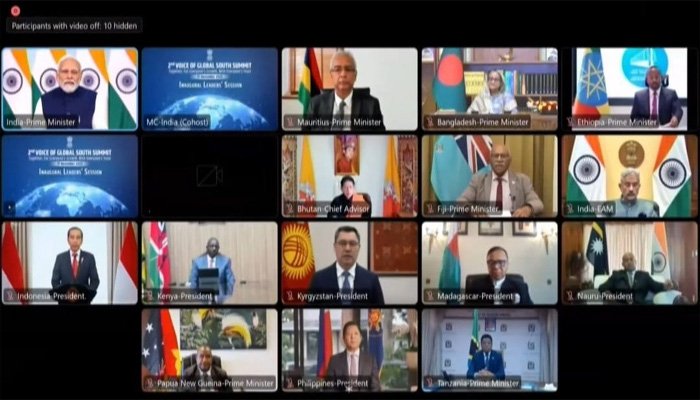 Prime Minister Sheikh Hasina on Friday said It is time for all to unite as one world and demand the end of the conflict going on in Palestine.
"Here, I express my profound concern at the tragic, inhuman existence of the hapless Palestinians in the face of merciless carnage. It is time for all of us to unite as one world and demand the end of the conflict," she said.
The prime minister made the call while addressing the 2nd Voice of the Global South Summit 2023, which is hosted by India in virtual platform, from her official residence Ganabhaban, reports UNB.
She said that theme of the summit, "Together for Everyone's Growth with Everyone's Trust" is most timely as it flags the pressing issue world faces today, namely, "trust deficit."
"It is the trust deficit among nations and lack of respect for international law that have led to the ongoing war in Europe and the carnage in Palestine," she said.
Hasina mentioned that these conflicts call for an urgent need to create genuine trust and mutual respect among the warring nations and involved international actors.
"Our world is plagued with unbearable poverty, undesirable inequality, intolerable terrorism, and the catastrophic threat of climate change," she said.
In addition, she said, there have now appeared sanctions and counter sanctions, with new challenges and increasing hardship for the people of the Global South.
"In this critical time, the world must unite as one and strengthen 'Everyone's Trust' to achieve 'Everyone's Growth'," she said.
The PM opined that the Global South is poised to play a pivotal role in shaping our future although it is often vulnerable to various socio-economic challenges.
"These need to be addressed by allowing more space and voice for the Global South to enable the creation of a more equitable and peaceful world based on Everyone's Trust," she added.
She expressed Bangladesh's commitment in this regard.
She mentioned that Bangladesh stands ready to share with the Global South its experiences on achieving food security, free housing, community healthcare, women's empowerment, and climate adaptation.
She made some recommendations for the betterment of Global South and the world.
These are-
First: As keen advocate of promoting peace, she believes it is vital to uphold global peace and stability for the overall well-being of humanity.
"The Global South must maintain a united front against unilateral sanctions and counter-sanctions."
Second:  Women, as half of the global population, are crucial for the creation of inclusive and vibrant societies.
"As the longest-serving female leader, I know for sure that empowering women is a strategic necessity for a brighter and more equitable future."
Third: All efforts are vital to limiting the global temperature to 1.5° Celsius.
"Increased financing and the transfer of relevant technologies for climate adaptation to the Global South are imperative."
Fourth: The Global South as major manpower-exporting countries, should streamline migration in the development process to offer a better life to all and to contribute to economic growth in both host and home countries.
Fifth:LDCs are facing various economic challenges resulting from COVID-19 and conflicts in parts of the world.
"I urge here the continuation of duty, quota-free access, and other facilities for a good period for graduating LDCs and after their graduation."
Finally, she stressed the importance of South-South and Triangular Cooperation for the promotion of global human development.
"I also urge development partners, international financial institutions, and stakeholders to generously support the Global South for a better future."
India is hosting the 2nd Voice of Global South Summit on Friday in a virtual format, in what will be the second time since January this year.
The Inaugural Leaders' Session was chaired by the Indian Prime Minister Narendra Modi.
The theme of the Inaugural Leaders' Session is "Together, for Everyone's Growth, with Everyone's Trust" and that of the Concluding Leaders' Session is "Global South: Together for One Future".
According to the Indian Ministry of External Affairs the 2nd summit would focus on sharing with countries of the Global South the key outcomes achieved in various G20 meetings over the course of India's Presidency.
The challenges posed by global developments are also likely to be discussed. Further, the summit will serve as a platform to discuss ways to sustain the momentum generated towards our common aspiration of a more inclusive, representative and progressive world order, it said.
According to MEA, the 2nd summit will be structured into 10 sessions. In addition, there will be eight Ministerial Sessions, with the following themes: Foreign Ministers' Session on "India & the Global South: Emerging Together for a Better Future", Education Ministers' Session on "Making Human Resources Future Ready", Finance Ministers' Session on "Financing People-Centric Development", Environment Ministers' Session on "Sustainable Solutions for Climate Resilience and Climate Finance".
It will also include Foreign Ministers' Session on "Global South and One Development", Energy Ministers' Session on "Affordable & Inclusive Energy Transition for Sustainable Development", Health Ministers' Session on "Solutions from the Global South for One Health" and Commerce / Trade Ministers' Session on "Global South & Resilient Supply Chains".
The eight ministerial sessions will include two Foreign Ministers' Sessions; one Ministerial session each of Education, Finance, Environment, Energy, Health & Commerce Ministers and a Concluding Leaders' Session in the evening.
The theme for the first Voice of Global South Summit was "Unity of Voice, Unity of Purpose" and had a total of 10 sessions.