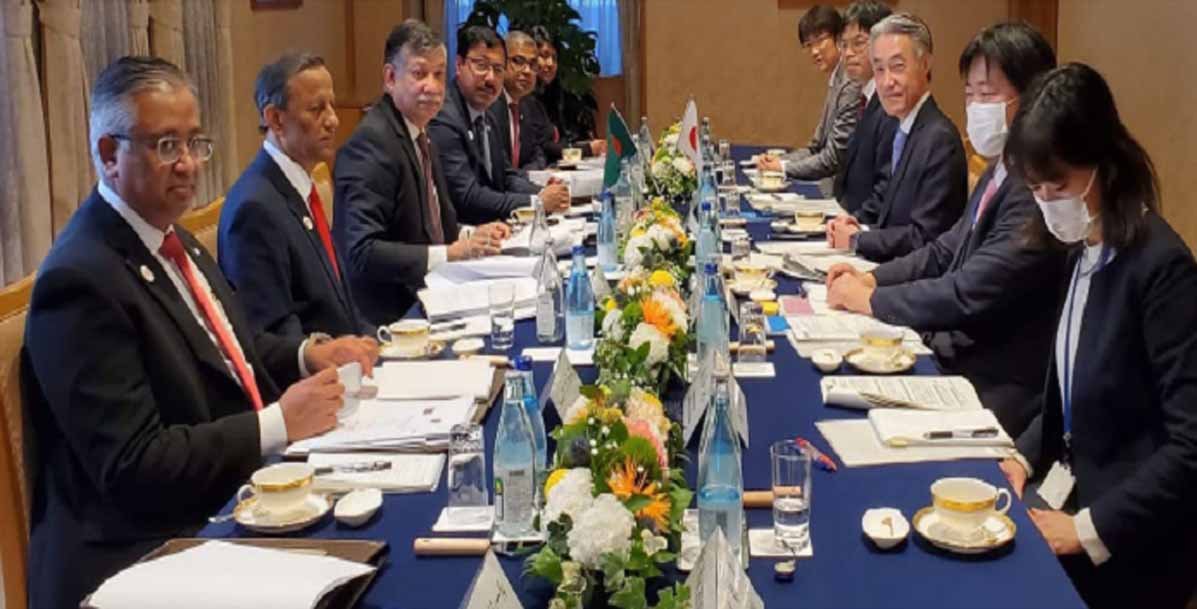 Bangladesh and Japan agreed to further intensify their existing excellent ties and work towards building a strategic relationship.
This was discussed during the 4th Foreign Office Consultations (FOC) in Tokyo between the two countries to comprehensively discuss the bilateral relations, and regional as well as global issues, a foreign ministry press release said here.
Bangladesh Foreign Secretary Masud Bin Momen and Japanese Senior Deputy Minister for Foreign Affairs Shigeo Yamada led their respective sides during the FOC.
During the meeting, Japan highly appreciated the well-planned and structured approach to development led by Prime Minister Sheikh Hasina through her visions-2021 and 2041.
As part of building stronger bonds, Japan suggested partnering with Bangladesh to further develop the southern Chattogram area centring the Matarbari Infrastructure Development Initiative (MIDI) project in the context of connectivity.
Both sides agreed that these projects, being built under Japan's Big-B initiative, have potential to benefit not only Bangladesh but also the entire region.
They discussed issues of bilateral relations in the areas of trade, investment, agriculture, especially ICT and high-tech industries, blue economy, health, human resource development, capacity development in maritime security, disaster management and defence cooperation.
By emphasizing the importance of promoting connectivity in the coming days, Foreign Secretary appreciated the Japanese involvement in Bangladesh's development projects, including the Matharbari, Metro Rail and the Third Terminal of Hazrat Shahjalal International Airport.
Japanese Senior Deputy Minister appreciated Bangladesh's growth in spite of the pandemic and global economic downturn.
Foreign Secretary expressed his gratitude for COVID-related assistance extended by Japan including vaccine provision and direct budgetary support for the next couple of years.
Japanese Senior Deputy Minister assured that Japan would continue to support in all development projects of Bangladesh related to connectivity.
Both sides expressed satisfaction at the inauguration of the first phase of the Bangladesh Special Economic Zone at Araihazar and Metro Rail.
Bangladesh hopes that this economic zone will attract more Japanese investments since Dhaka attaches high importance to bilateral relations with Japan and will facilitate Japanese investors in this regard.
Foreign Secretary also appraised Biman's plan to resume its flights to Tokyo in the running year.
Japanese Senior Deputy Minister welcomed the idea and stated that the proposed air link would help greater people to people contact and promote businesses.
Foreign Secretary stressed the urgency for early repatriation of the Rohingyas to their ancestral homes in the Rakhine state of Myanmar.
The Japanese side stated that they would continue their assistance to Bangladesh in this regard.
Both sides recalled Father of the Nation Bangabandhu Sheikh Mujibur Rahman's historic visit to Japan in 1973 which cemented the bilateral relations.
Foreign Secretary invited Japanese Senior Deputy Minister Yamada to visit Bangladesh for the next FOC to be held in 2024.
Bangladesh Ambassador in Tokyo Shahabuddin Ahmed and foreign ministry's senior officials also attended the meeting.