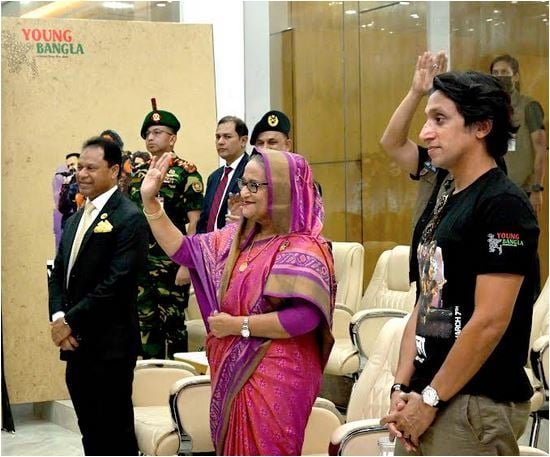 Prime Minister Sheikh Hasina today witnessed the annual Joy Bangla Concert commemorating the historic March 7 speech of Father of the Nation Bangabandhu Sheikh Mujibur Rahman.
Chief of Army Staff General SM Shafiuddin Ahmed and Bangabandhu's grandson and Center for Research and Information (CRI) trustee Radwan Mujib Siddiq accompanied the Prime Minister.
Earlier, the premier arrived in Dhaka in the afternoon from Doha, the Capital of Qatar, after attending the 5th United Nations Conference on Least Developed Countries (LDC5: From Potential to Prosperity).
The concert began with observing a one minute silence in Dhaka's Army Stadium to pay homage to the victims of Tuesday's explosion in a Gulistan building.
The Center for Research and Information's (CRI's) youth platform
Young Bangla has been organizing the Joy Bangla Concert for the seventh time since 2015, except the last two years for the Covid-19 pandemic.
The concert was organised mainly to instill the spirit of the Liberation War among the new generations.
It is usually held on March 7 every year, but this year's event was moved to March 8 due to the holy Shab-e-Barat.
Renowned bands– Artcell, Avoid Rafa, Lalon, Chirkutt, Cryptic Fate, Karnival, Meghdol, Nemesis, and Arekta Rock Band– are performing at the concert.