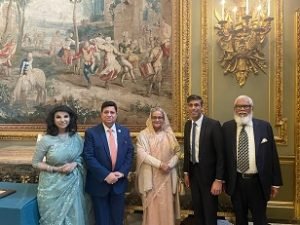 Bangla Mirror Desk:
Prime Minister Sheikh Hasina today exchanged pleasantries with the UK Prime Minister Rishi Sunak at the Commonwealth Heads of Government Meeting, a biennial summit of governmental leaders from all Commonwealth nations, here this afternoon.
On her arrival at the Commonwealth Secretariat, Sheikh Hasina was received by Commonwealth Secretary General Baroness Patricia Scotland.
The summit was held at Marlborough House, the Commonwealth Secretariat, London.
Interaction with King Charles III, Head of Commonwealth, by the Commonwealth Heads of the Governments was held.
Commonwealth leaders held meeting at the Main Conference Room, chaired by Paul Kagame, President of Rwanda, Commonwealth Chair in Office.
A Commonwealth joint family will also be captured at the event.
The Prime Minister later attended King Charles III reception for heads and states of the governments or overseas representatives in advance of the coronation of their King and Queen Consort at Buckingham Palace here.
The Prime Minister arrived in London at 11:49 pm on May 4 to attend the coronation of King Charles III to be held on May 6 after attending a programme of the World Bank marking its 50 years partnership with Bangladesh in Washington DC, the USA and a bilateral visit in Japan.
Charles III, 74, became King of the United Kingdom of Great Britain and Northern Ireland on September 8, 2022, after the death of his mother Queen Elizabeth II.