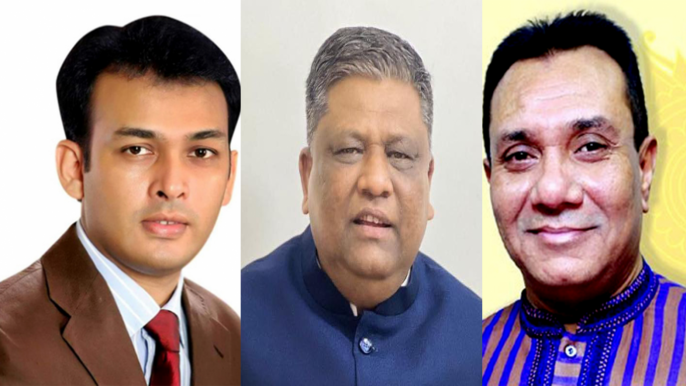 Nazrul Islam Babul, the Jatiya Party (JaPa) nominated candidate in the upcoming Sylhet City polls, has expressed anger after a top leader of his party publicly sought votes for the ruling Awami League nominated candidate Anwaruzzaman Chowdhury.
Attending an election campaign programme organised by the ruling party candidate Anwaruzzaman in Sylhet city on Friday night, Yahya Chowdhury, the vice chairman of the Jatiya Party (JaPa) which is the main opposition party in Parliament, sought votes for boat, which is the election symbol of the ruling party.
In this regard, Nazrul Islam Babul on Saturday told that he filed a complaint against Yahya Chowdhury to the Jatiya Party Chairman and Deputy Leader of Opposition in Parliament GM Quader.
"I have invited Yahya Chowdhury to my campaign events several times but he declined to attend. But he participated in the Awami League candidate's event yesterday [Friday] and sought votes for him. There is no way he can do that while occupying an important position in the party. He is creating conflict inside the party," he said.
"I have sent the photos and video footage of his activities against party discipline to the chairman and general secretary of the party. They will take organisational action against Yahya Chowdhury," Nazrul added.
What did Yahya say and why?
Yahya Chowdhury spoke as a special guest at the meeting organised in support of Anwaruzzaman Chowdhury in the Jherjheripara area of Ward 18 in the city on Friday night.
Addressing the event, he said that regardless of his party's opinion, the development of Sylhet city should be carried forward by ensuring the victory of the boat candidate and everyone has to work together to help prime minister's nominee Anwaruzzaman win.
"Anwaruzzaman is a good-hearted person. I have known him for a long time. He is determined to work for the development of the city dwellers. I urge you to vote for the boat symbol on 21 June and make the boat the winner," he said.
When The contacted Yahya Chowdhury in this regard on Saturday afternoon, he said, "It was not a party programme but organised by the locals. There were people from different groups. I have been there as a resident of the area. However, I did not seek votes for anyone."
Yahya Chowdhury was elected Member of Parliament from Sylhet 2 Constituency as the 14-party Grand Alliance candidate in the 10th parliamentary elections held in 2014.
But in the 2018 election, he lost his security deposit as a candidate. Anwaruzzaman Chowdhury was the Awami League candidate from Sylhet 2 in the last election. Both of them are neighbours.
Sylhet city polls on 21 June
Sylhet City Corporation election will be held on 21 June with the use of electronic voting machines (EVMs).
The last date for submission of nomination papers is 23 May. Nomination papers will be selected on 25 May and the deadline for withdrawal of nomination papers is 1 June.
As of Saturday, five candidates have collected nomination papers for the mayoral post.
They are Anwaruzzaman Chowdhury from Awami League, Hafiz Maulana Mahmudul Hasan of Bangladesh Islami Andolan and three independent candidates — Mohammad Abdul Hanif alias Kutu, Mohammad Abdul Mannan Khan and Samshun Noor Talukdar.
Jatiya Party's nominated candidate in Sylhet, Nazrul Islam Babul, convenor of the party's metropolitan branch, did not collect the nomination paper till Friday but he continues to do electioneering.