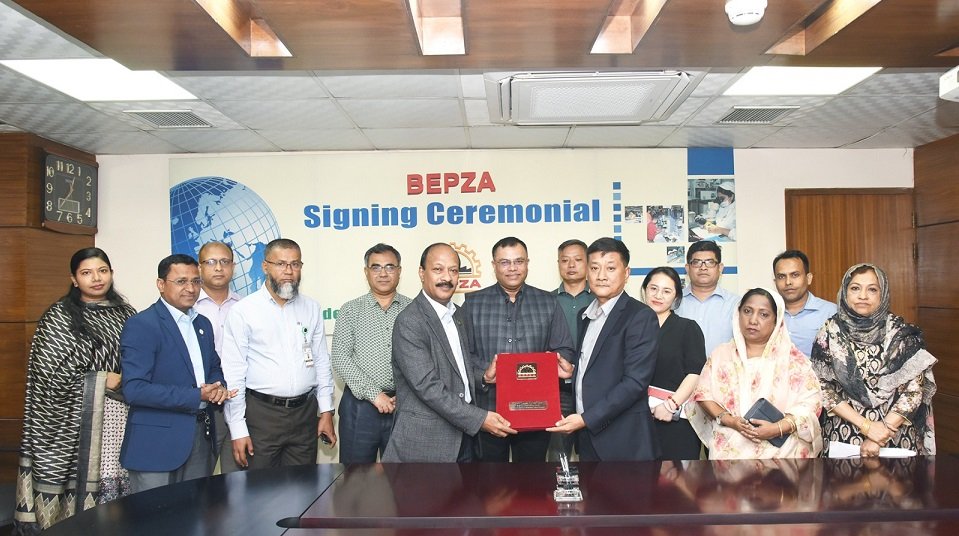 Chinese company Jibin Technology (BD) Co. Limited is going to set up a factory manufacturing shoe accessories in the BEPZA Economic Zone (EZ) in Mirsharai, with an investment of $6 million.
Jibin Technology (BD) signed an agreement with the Bangladesh Export Processing Zones Authority (BEPZA) to this effect at the latter's premises in the capital on Monday.
Ali Reza Mazid, Member (Investment Promotion) of BEPZA and Wu Xueli, Managing Director of Jibin Technology (BD) Co., Ltd. signed the agreement on behalf of their respective organisations.
BEPZA Executive Chairman Major General Abul Kalam Mohammad Ziaur Rahman, ndc, psc witnessed the signing ceremony.
Jibin Technology (BD) will produce 6 million pairs of shoe accessories annually, like Outsole, Midsole, Injection Parts, Backstay, Heel Clip, Toe Cap, Sports Spike, EVA, PU Foam, PU Component, etc. Initially, they will create employment opportunities for 195 Bangladeshi nationals.
The BEPZA EZ is a larger venture of BEPZA located within the Bangabandhu Sheikh Mujib Shilpa Nagar springing up in Mirsharai, Chattogram on 1138.55 acres of land.
To turn it into a vibrant industrial enclave, BEPZA has now signed lease agreements with a total of 18 domestic and foreign companies, including Jibin Technology (BD).
The companies are so far slated to invest $400 million to produce diversified products including traditional readymade garments.