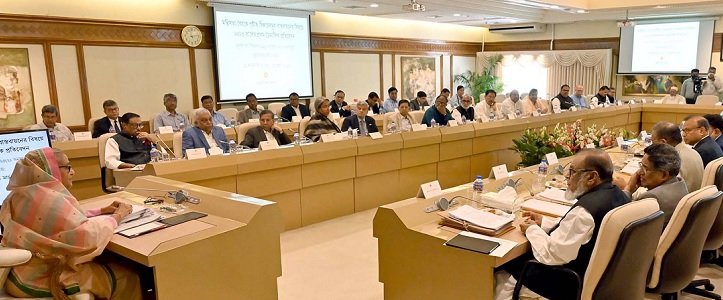 The Election Commission will not have the power to cancel election in an entire constituency if irregularities happen in one or several centres, according to the draft of the amendment to the Representation of the People's (Amendment) Act, 2023 which has been given final approval by the Cabinet at a meeting, report agencies.
The meeting was held on Thursday at the Prime Minister's Office with Prime Minister Sheikh Hasina in the chair.
Cabinet Secretary Md Mahbub Hossain told reporters about the decision at a press conference at the Bangladesh Secretariat following the cabinet meeting.
The cabinet secretary said as per the draft law, if a returning officer declares a candidate's nomination paper valid, anyone can file an appeal against that decision.
But in the existing act, candidates could only appeal if the returning officer cancelled their nomination papers.
Mahbub Hossain said candidates need to pay bills seven days before submitting nomination papers in the existing act.
In the draft law, candidates will get scopes to pay copies of bills till one day before submitting nomination papers, he said.
The cabinet secretary said a candidate will also have to submit TIN certificate and evidence of income tax return submission with their nomination paper.
There is a provision of minimum two years and maximum seven years imprisonment for obstructing the works of journalists and observers in the proposed RPO (Amendment) Act, he said.
The deadline, he said, for submitting the constitutions of political parties has been extended to 2030, which was 2020 in the existing law.
The cabinet also approved the draft of the Secured Transactions (Movable Property) Act, 2023.
He said once the law is enacted, people can get loans from banks against movable assets.
Mahbub Hossain said the cabinet congratulated Prime Minister Sheikh Hasina for UN recognition to her innovative Community Clinic model to reach healthcare services to the doorsteps of common people by setting up community clinics across the country.
He said community clinic is a unique initiative of Sheikh Hasina which attained local and international accolades.