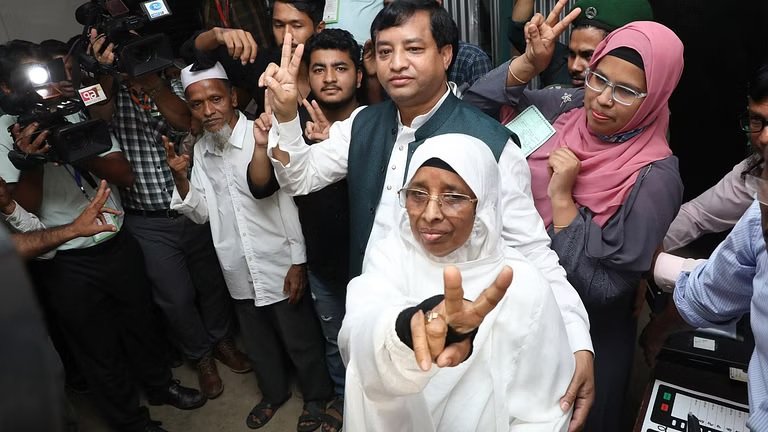 Independent candidate Zayeda Khatun, mother of suspended former mayor Jahangir Alam, has been elected Gazipur City Corporation mayor.
Zayeda Khatun with 'Table Clock' election symbol received 2,38,934 votes while her nearest rival and ruling Awami League candidate Md Azmat Ullah Khan with the 'Boat' symbol bagged 2,22,737 votes at all 480 polling centres.
Returning officer Md Faridul Alam made the announcement of the unofficial results of the Gazipur City Corporation elections 2023 at the result collection and serving centre set at the Bangataj Hall in Gazipur city at about 1:30am on Friday.
He said 48.75 per cent of total voters, or 5,75,050 voters, out of the total number of 11,79,476 voters, cast their votes in the elections.
Zayeda is the first female mayor and the third mayor of Gazipur City Corporation.
The election was held peacefully between 8:00am and 4:00pm on Thursday.
According to the unofficial results, Islami Andolon Bangladesh's candidate Gazi Ataur Rahman occupies the third place by bagging 45,352 votes.
Sarkar Shah Nur Islam Roni, son of BNP leader Nurus Islam Sarkar, who received the death penalty over the murder of Awami League leader Ahsanullah Master, contested the Thursday's polls with 'Elephant' symbol and received 23,265 votes.
Jatiya Party candidate MM Niaz Uddin got 16,362 votes, Gana Front's Atiqul Islam got 16,974 votes, Zaker Party's Raju Ahmed got 7,206 votes and independent candidate Harunur Rashid got 2,426 votes.
Immediately after announcement of the election results, supporters of Zayed and her son Jahangir brought out jubilant processions across the city.
Many of them marched towards the house of the GCC mayor-elect.
Zayeda, 61, according to her affidavit, is 'self-educated' and 'businessperson'.
She is a mother of two sons and a daughter and earns Tk 3.45 lakh a year from her business.
Election Commissioner M Alamgir, after the election hours, said that the EC was highly satisfied with the GCC polls.
Besides eight mayoral candidates, 78 reserved seat councillor candidates, and 245 regular councillor candidates contested for 19 reserved seats for women and 57 ward councillor seats respectively.