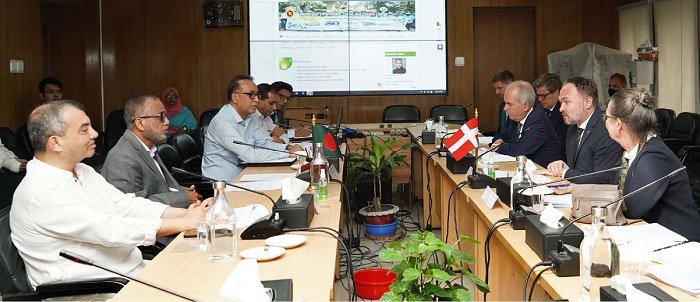 Environment, Forest and Climate Change Minister Md Shahab Uddin and Danish Minister for Development Cooperation and Global Climate Policy Dan Jørgensen jointly launched Bangladesh-Denmark Joint Action Plan on the Sustainable and Green Framework Engagement in the meeting room of the Ministry of Environment, Forest and Climate Change in Bangladesh Secretariat on Tuesday.
Chairman of the Parliamentary Standing Committee on the Ministry of Environment, Forest and Climate Change Standing and Special Envoy to the Prime Minister Saber Hossein Chowdhury, Danish Ambassador to Bangladesh Winnie Estrup Petersen, Additional Secretary (Admin) Iqbal Abdullah Harun, Additional Secretary (Environment and Climate Change) Sanjay Kumar Bhowmik and high officials from both Bangladesh and Danish government were also present on the occasion.
The environment minister announced that the Joint Action Plan, signed on June 9, 2023, during the high-level meeting between Bangladesh and Denmark in Copenhagen, will enable Denmark to provide additional support for Bangladesh's transition to a low-carbon pathway, resource efficiency, and the adoption of a circular economy.
Shahab Uddin said that according to the agreement, the two countries will aim at attaining a sustainable and greener future with a focus on climate change adaptation and mitigation, environmental damage and loss of biodiversity in line with the 2030 Agenda for Sustainable Development and the Paris Climate Agreement.
Shahab Uddin said that areas of collaboration will also include sustainable energy and energy efficiency, green transition in value chains related to, among other things, food and agriculture, sustainable infrastructure including maritime infrastructure, ensuring greener industrial transformation, integrating water, environmental and cleaner technologies, supporting sustainable and just development.
The action plan will be reviewed whenever deemed necessary.
The environment minister also said: "We would like to work together with Denmark towards unlocking the promised $100 billion by the developed countries, with a 50:50 balance between adaptation and mitigation finance and early operationalization of the Loss and Damage fund."
He said Denmark may support Bangladesh granting financial and technical assistance in implementing the National Adaptation Plan, Mujib Climate Prosperity Plan and Nationally Determined Contributions (NDCs).