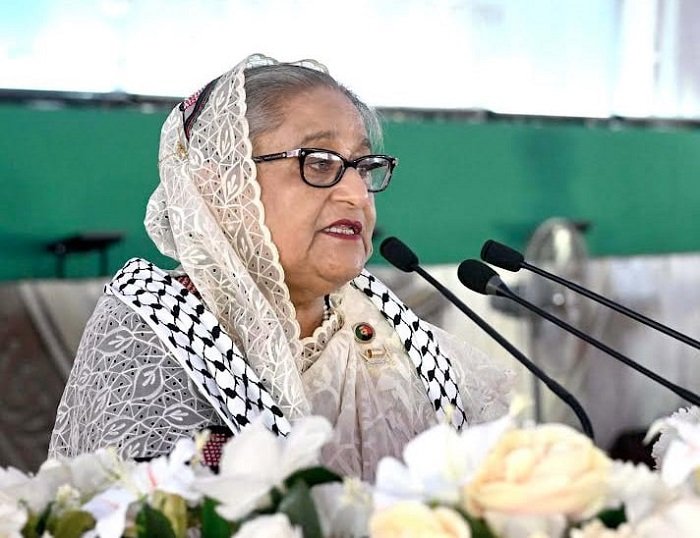 Prime Minister Sheikh Hasina on Saturday warned against any sort of anarchy and vandalism in the name of movement, saying her government will not tolerate destructive activities.
Referring to the street protests by BNP-Jamaat and their allies the premier said, "Let them do their agitation programmes."
"But if they again start arson terrorism, destructive activities, if any one engages in criminal activities, we will not spare them, and that's the reality," she declared, reports UNB.
The PM was addressing a Lawyers' Grand Rally organised byBangabandhu Awami Ainjibi Parishadat historic Suhrawardy Udyan after inaugurating the newly constructed 15-storey building of Bangladesh Bar Council.
She said in the 29 years from 1975-1996 and 2001-2008 the people of Bangladesh saw no change for their betterment.
"Those in power were busy to change their own fate. They did nothing for the people of the country. The people's condition started improving only after Awami League came to power ," she said.
Hasina, also the chief of ruling Awami League, said that she never does politics for her own gain.
"I do politics for the welfare of the people of this country," she said.
Convener of Bangabandhu Awami Ainjibi ParishadAdvocate Yusuf Hossain Humayun,member secretary of Bangabandhu Awami Ainjibi ParishadBarrister Sheikh Fazle Noor Taposh,Bangladesh Bar Council chairman Abu Mohammad Ami Uddin, Vice-Chairman Syed Rezaur Rahman,Legal Affairs Secretary Advocate Najibullah Hiru andLaw and Justice Division Secretary Md Golam Sarwar also spoke at the rally.
The prime minister unveiled the cover of a book titled ' Bangabandhu's Legal Philosophy' published by the Law Ministry.
A video documentary on various features of the newly opened Bangladesh Bar Council building was screened at the programme.
The PM also witnessed a cultural programme organised by Bangladesh Shilpakala Academy.