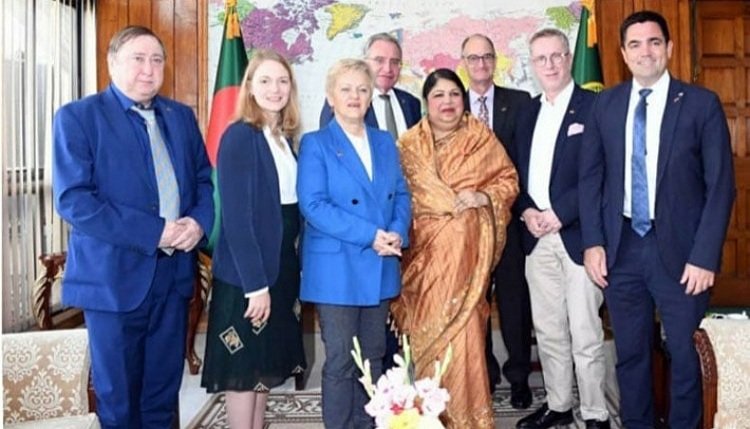 A visiting six-member German parliamentary delegation on Thursday held discussion elaborately on German investment at the economic zones in Bangladesh, reports BSS.
The discussion took place while the German parliamentary delegation called on Jatiya Sangsad Speaker Shirin Sharmin Chaudhury at her office at the Jatiya Sangsad Bhaban.
During the discussion, they discussed various issues including long friendly relations between Bangladesh and Germany, landmark development of Bangladesh, economic development in compliance with climate adaptation, peaceful repatriation of the Rohingya population, women development in Bangladesh, expansion of trade and commerce and German investment in Bangladesh economic zones.
"Considering the effect of climate change, Bangladesh has formulated Delta Plan-2100 and formed climate change trust fund with its own finance for sustainable development," said the Speaker.
Seeking continuous support from Germany to achieve sustainable development goals (SDGs), the Speaker said the main target of the government is to construct a developed and prosperous Bangladesh by 2041 and economic development in compliance with the climate adaptation.
The member of the visiting German parliament delegation included Renate Kunast, Andreas Larem, Paul Lehrieder, Ria Schroder, Andre Hahn and Malte Kaufmann.
Lauding Bangladesh economic progress, visiting German lawmaker Renate Kunast said, "Bangladesh is an important country considering the effect of climatic change and establishment of economic zone indicates the economic development of the country."
Praising country's women empowerment, another German lawmaker Ria Schroder said, "It is essential to ensure welfare of the female population during their service."