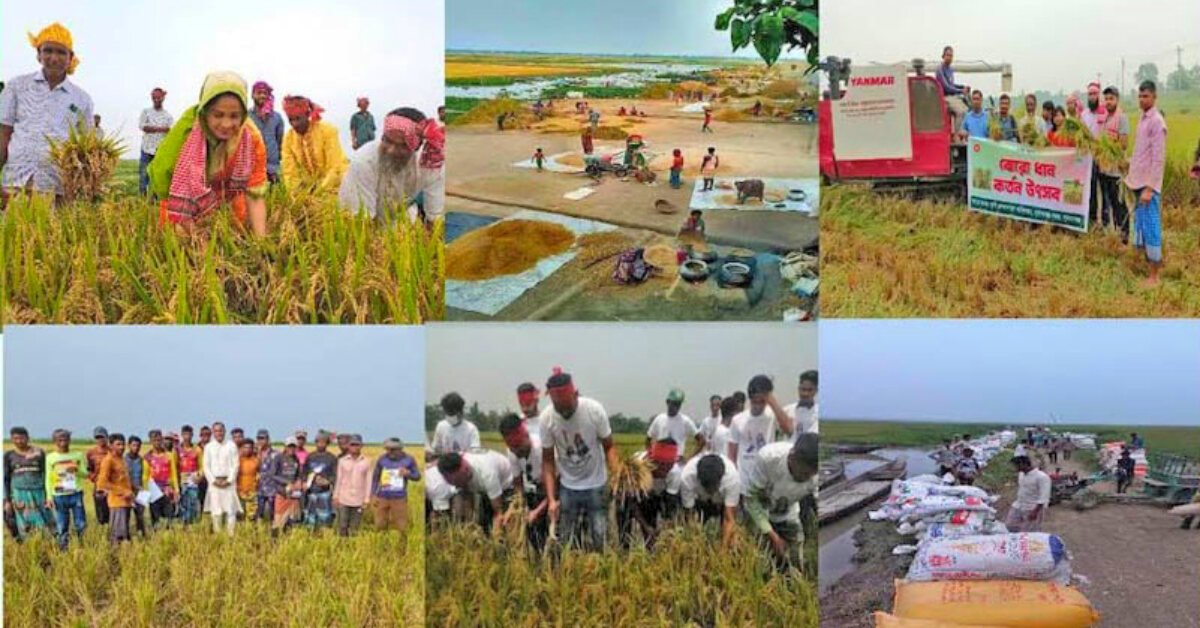 85 percent of Sunamganj's boro paddy harvest has been completed, said the Agriculture Department. According to the sources of agriculture department, bumper yield of boro rice has been achieved in 154 haors in 12 upazilas of the district in the current season.
Paddy harvesting started on April 7 and till today, April 30, it is almost the end of harvesting. 100% paddy cutting and threshing will be completed on May 7. Paddy worth Tk 3800 crore is going to be harvested by the 3 lakh 50 thousand farmers of this district.
Farmers in Sunamganj are thinking of turning around after the damage caused by last year's floods with a bumper crop of paddy in the current season. Farmers are very happy to know that the government has started buying paddy at Tk 1200 per maund.
On the other hand, paddy is being sold locally at the price of 850 to 950 taka per maund in the different markets of 12 upazilas of the district. According to Sunamganj Agriculture Department sources, Boro paddy has been planted on 222,795,000 hectares of land. The target of paddy production in cultivated land is 13 lakh 53 thousand metric tons. Which amounts to 9 lakh 2 thousand metric tons of rice. And in terms of money, it is about 3 thousand 800 crores.
Masuk Mia, a resident of Mashalghat village in Jamalganj upazila's Behli union, said that he has planted boro paddy on 16 kedar of land in Howar. He started harvesting paddy with harvester machine. Expecting to get 20 manas of paddy per kedar. If the sky is good, you can cut all the paddy and take it home within 1 to 3 days.
Kamal Miah, a farmer of Haor district, said that the bumper harvest of Haor has been done this time. He said that he has cultivated Boro paddy on 15 kedar of land, out of which 10 kedar of paddy has been harvested.
Dalia Begum of Karchar Haor in Biswambharpur upazila said, "We are growing 5 kedar crops with great difficulty. I have finished cutting and threshing but the drying of paddy is not finished. Expires in 2/1 days. I don't have a husband. Cutting paddy with my child. Although it is difficult to harvest, there is no limit to the joy. If the price of paddy is good in the market, my daughter's marriage and my son's education will not be a problem.
District Sramik League president Salim Ahmad and Jubo League joint convenor Khandaker Manjur Ahmad said that on the orders of Awami League president and Prime Minister Sheikh Hasina, the leaders and workers of Sramik League, Jubo League and Chhatra League are standing by the farmers' brothers in Howar and they will remain in the field until the harvest comes home.
Bimal Chandra Som, deputy director of Sunamganj Agricultural Extension Department, said that 83 percent of Haor's paddy harvesting has been completed. Also, 25 percent paddy harvesting has been completed in Nan Haor. On an average, 85 percent of Boro paddy harvesting has been completed.
He said that this year, 265,000 workers besides 1,000 harvester machines have worked to cut paddy in Howar. This time the yield of Hawre Boro rice has been good.
In this regard, Deputy Commissioner Didare Alam Mohammad Maksud Chowdhury said, 'There are about three lakh agricultural workers in Sunamganj. Besides, thousands of workers have also come from different districts. 105 new harvesters and 33 reapers have been provided to farmers this year with 70 per cent government subsidy for fast harvesting of boro paddy in Howar, enabling faster harvesting and threshing of paddy in Howar. This is saving both the time and cost of the farmers and the harvesting of Haor paddy is completed quickly.