Muhammed Shahed Rahman :
British expatriate businessmen have demanded an end to harassment of expatriates in Bangladesh and protection of their investments.
This demand was announced at a press conference organized at the London Bangla Press Club on Tuesday 16 May 2023.  Director Abdur Razzak read the written statement at the press conference.
The press conference was organized by 8 expatriate directors of Homeland Life Insurance Company Ltd. Out of which 7 were arrested in Bangladesh last year in a harassment case and were released on bail after 8 days of imprisonment.
These investors demanded the concerned administration and Prime Minister Sheikh Hasina to immediately stop filing false cases against expatriates in Bangladesh.
They said that false cases were filed with the connivance of some dishonest officials of the Bangladesh administration. The biggest victims of these cases are expatriate investors. Fraudulent cases are used as a weapon by corrupt people to defraud expatriate investment. So that expatriate investors leave the country with the fear of litigation. They think that such dorovisandhi worked behind their arrest and imprisonment.  They also said that after the settlement of the previous case, two new cases and a writ petition have been filed against them.
These UK diaspora investors say that the law is to ensure the safety of people's life and property. But if this law is used as a weapon of harassment, used as a weapon to grab other people's property – it is not acceptable in any way.
Homeland Life Insurance Company's expatriate UK investors are – Vice Chairman Jamal Miah, Director Abdur Razzak, Director Kamal Miah, Director Abdul Ahad, Director Abdul Hai, Director Jamal Uddin, Director MA Rob and Director Faizul Haque
They answered various questions of journalists. Many more UK expatriates investing in various sectors in Bangladesh attended the press conference in solidarity with the demand. Directors presented written statements at the press conference.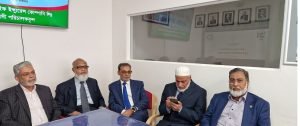 In their written statement, they said, on September 21 last year, when they were going to attend the annual general meeting of Homeland Life Insurance Company, these 7 UK expatriate directors were arrested by the police from the company's head office in Motijheel, Dhaka. The police did not explain any reason for the arrest. Simply said, 'talking to you'. After taking them to the police station, it was informed that 27 cases have been filed against them in Magura. Four customers of Homeland Life Insurance Company filed these cases without getting insurance money.
These investors said, "In addition to the chairman of the company, there were 10 directors at that time. Among them 7 of us are from Britain, one lives in USA. Chairman and two directors live in Bangladesh. But due to non-payment of insurance money, 4 customers of Magura selectively filed a case against 7 directors and one shareholder residing in the UK. Again, we were arrested from the company meeting before we knew anything about the case – it can be assumed from this incident that this is not an ordinary case. This is part of a deeper conspiracy to take over the company to siphon investment from expatriate investors."
They asked if the customer can file a case against the company if they don't get the money. And the matter is civil. But how to take criminal cases against them?
It is said in the written statement that they were released from Magula court on September 29 last year after dealing with the cases. After that, they took the initiative to ensure the transparency and accountability of the company's management. But when the board meeting came, things started against them. Various kinds of false news related to Homeland Life Insurance were spread in some papers of Bangladesh. In those reports, it was falsely alleged that UK expatriate investors had embezzled Tk 104 crore from the company. In view of which a writ petition was also filed against these expatriate investors demanding an investigation. Besides, two more false cases have been filed in April. These cases are also filed against the customer for not returning the money.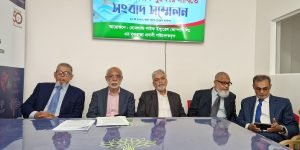 They said, "Earlier cases were filed against only us 8 UK expatriates. In addition to 8 UK expatriates, the chairman and managing director of the company have also been kept in the cases this time. So that it does not appear that only UK expatriate investors are targeted."
Requesting the Bangladesh government, these investors said, "We expatriates always travel, have relationships and invest because of the love and passion for mother spirit. We want Bangladesh to develop and Bangladesh to move forward. And we expatriates want to be with Bangladesh in that journey. But some nefarious circles want to throw us out of Bangladesh by harassing us in various ways to embezzle our investment. Harassing us by filing false cases, misusing the law through some unscrupulous officials of the administration."
Requesting the Bangladesh government, police administration and court, they said that before taking a case against expatriates, proper inquiries are made. Steps are taken to ensure that no one can make a deliberate false case.
They called upon the government to take action against those trying to embezzle foreign investment. Said, "Expatriates are remittance fighters, the life force of Bangladesh's economy. So the government should take strict steps to protect expatriate investment."
They made a humble request to the Prime Minister to enact specific legislation in the Grand National Assembly to permanently stop the harassment of expatriates and to protect expatriate investment and investors. They said that if expatriate investors of Homeland Life Insurance Company are victims of any injustice, lose their investment, it will set a very bad example for expatriate investment in Bangladesh. They drew the attention of the Bangladesh government and related administration on an urgent basis for the protection of expatriate investors of Homeland Life Insurance Company.
After these 7 investors were unjustly arrested in Bangladesh, there was a strong protest from the UK's Bengali media, various individuals and organizations and the community. Their release was demanded. The demand was raised – to provide security to expatriate investors in Bangladesh. At the beginning of this press conference, these 7 directors of Homeland Life Insurance Company expressed their immense gratitude and thanks to the journalists of Bangla media in the UK, various people and organizations of the community, including their own families – who were by their side, showed support and sympathy, and raised the demand for release.